As part of a grant-funded project to process manuscript collections, I have been working closely with the records of the Copper Range Company and its subsidiary holdings.
In 1913, the Copper Range Railroad Company (CRRR) constructed the Painesdale Cut Off, which altered the course of the main line built in 1899.  As in all of the CRRR's construction projects, most of the work was done by contractors.  To keep track of labor costs, CRRR maintained force accounts, which documented the amount of hours worked by each pay grade of workers.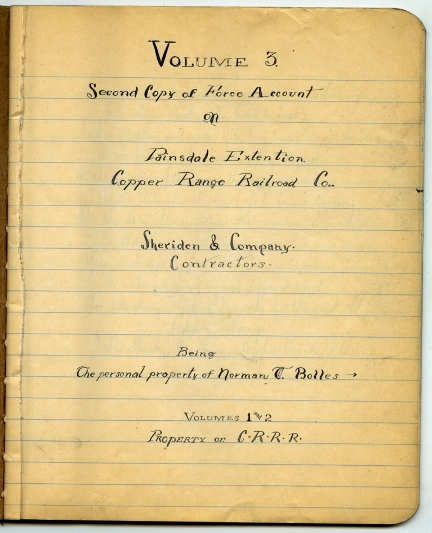 Although the title page doesn't indicate it, there is something unusual about this particular force account.  Specifically, the second page: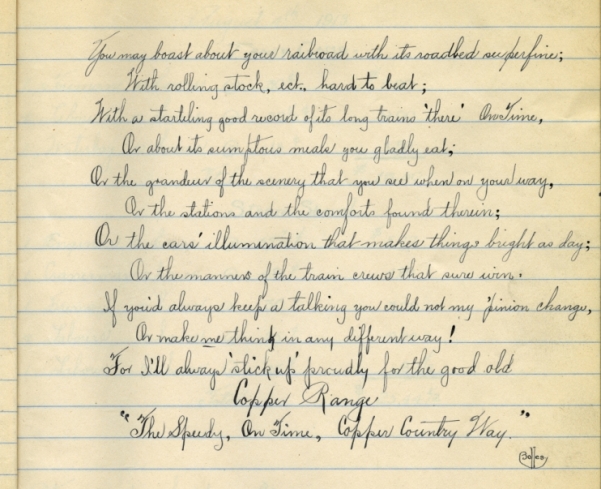 You may boast about your railroad with its roadbed superfine;
With rolling stock, ect., [sic] hard to beat;
With a startling good record of its long trains 'there' On Time,
Or about its sumptuous meals you gladly eat;
Or the grandeur of the scenery that you see when on your way,
Or the stations and the comforts found therein;
Or the cars' illumination that makes things bright as day;
Or the manners of the train crews that sure win,
If you'd always keep a talking you could not my 'pinion change,
Or make me think in any different way!
For I'll always 'stick up' proudly for the good old
Copper Range
"The Speedy, On Time, Copper Country Way."
—Norman T. Bolles, August 1913
Admittedly, it isn't Shakespeare (if still better than anything I could do).  The rest of the book contains the expected details of the construction.  The track and steam shovel gangs (later joined by a cable gang) worked Monday through Saturday, while a watchman was employed on Sundays.
So who was this poetic railroad man?  Unfortunately, the employee records processed to this point do not include him.  However, there was another Bolles working for the CRRR at the time.  Fred Robert Bolles, better known as F. R. Bolles, was promoted to General Manager in 1912; a position he held until 1920.
At this time it was quite common for whole families to work for a single company in various capacities.  Although the idea of F. R. Bolles hiring his close relatives would be considered nepotism today, it was a widely accepted practice at the time.  On the other hand, Norman Bolles may have already been an employee before F. R. was made general manager.
As the processing of the CRRR records continues, it may be possible to find out more about Norman T. Bolles.  Yet whoever he was, we can thank him for reminding us of the serendipity involved in archival research.
This project is supported with a grant from the National Historical Publications & Records Commission.