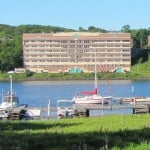 Rupak Rajachar (Bio Med) is the primary investigator of a project that is the recipient of a $326,346 research and development grant from the U.S. Department of Health and Human Services – National Institutes of Health.
The project is Adhesive PEG-Fibrinogen Nitric Oxide Releasing Hydrogetls for use as a Wound Healing and Tissue Engineering Support. Also working the project is Bruce Lee (Bio Med, and Megan Frost (Bio Med).
Lake Superior Magazine's June-July issue includes an article on several Michigan Tech biomedical researchers including Assistant Professor Feng Zhao, Associate Professor Mo Rastgaar, Professor Adrienne Minerick and several biomedical engineering students.
The Michigan Tech Vice President for Research Office announces the Research Execellence Fund Awards. Thanks to the volunteer review committees, as well as the deans and department chairs, for their time spent on this important internal research award process. Infrastructure Enhancement Grants: Sean Kirkpatrick, BRC/Biomed Eng. Repair and Upgrade Advanced Fluorescent Microscope; Research Seed Grants: Feng Zhao, Biomed Eng and Jingfeng Jiang, BRC/Biomed Eng; Link to full list