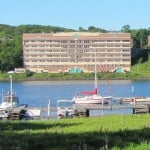 Lake Superior Magazine's June-July issue includes an article on several Michigan Tech biomedical researchers including Assistant Professor Feng Zhao, Associate Professor Mo Rastgaar, Professor Adrienne Minerick and several biomedical engineering students.
The Michigan Tech Vice President for Research Office announces the Research Execellence Fund Awards. Thanks to the volunteer review committees, as well as the deans and department chairs, for their time spent on this important internal research award process. Infrastructure Enhancement Grants: Sean Kirkpatrick, BRC/Biomed Eng. Repair and Upgrade Advanced Fluorescent Microscope; Research Seed Grants: Feng Zhao, Biomed Eng and Jingfeng Jiang, BRC/Biomed Eng; Link to full list
Assistant professor Bruce Lee (Bio Med) was invited to give an oral presentation at the Adhesive & Sealant Council (ASC) 2015 Spring Convention & EXPO, Monday through Wednesday in Nashville. ASC is a North American trade association comprised of more than 130 U.S. companies in the adhesive and sealant industry.
Jaroslaw Drelich (MSE) and Jeremy Goldman (Bio Med) have received $203,996 from the US Department of Health and Human Services, National Institute of Health for the first year of a 22 month-long project titled "Improved Biocompatibility and Biodegradation of Zn-based Stent Materials through Surface Non-Engineering."
The Biotechnology Research Center has announced its Spring 2015 Travel Grant Awards that include the following Biomedical Engineering students. Post-doctoral Research Scientist Presentation:
Qi Xing (Biomed), TERMIS–AM 2014 (poster)
Graduate Student Presentations
Zichen Qian (Biomed), Gordon Research Conference (poster)
Jingfeng Jiang (Biomed/BRC) has received $8,427 from the Radiological Society of North America for a research and development project titled "Development and Validation of Simulations and Phantoms Mimicking the Viscoelastic Properties of Human Liver."
Technology Century, an online and print publication of the Engineering Society of Detroit, featured editor Matt Roush's interviews with faculty and graduate students from the College of Engineering at Michigan Tech, the first stop on his annual Tech Tour of university campuses in Michigan.
Tech Times, a technology news website, published an article about Assistant Professor Jingfeng Jiang's (Biomed) "virtual breast" to improve breast cancer detection.
Jingfeng Jiang, Sean Kirkpatrick and Rupak Rajachar (Biomed/BRC) have received $452,780 from the US Department of Health and Human Services National Institute of Health for a two-year project titled "Virtual Breast Project: Improving Noninvasive Characterization of Tumors."
Tolou Shokuhfar (ME-EM/Biomed//MuSTI) received $29,600 from the Pacific Northwest National Laboratory for a research and development project titled "In Situ Liquid Microscopy of Biological Materials."
Science 2.0, a science news website, reported on Assistant Professor Jingfeng Jiang's (BME) research on a "virtual breast" for improved cancer detection.
Megan Frost (Biomed) has recieved $150,000 from the National Science Foundation for a research and development project titled "Tunable Nitric Oxide Releasing Polymeric Materials."