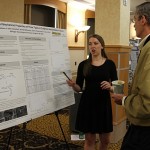 LSTI first Annual Research Forum
by Department of Biomedical Engineering
The Michigan Tech community is invited to attend the first Annual Life Science and Technology Institute (LSTI) Research Forum held Friday September 25. Posters can be viewed between 8 a.m. and 3 p.m. in the Memorial Union Ballroom A1. Student awards will be presented at 4 p.m.
Undergraduate and graduate students working in life science-related fields will present their research posters in separate competitions. Posters can also be viewed from 1 p.m to 5 p.m. on Thursday.
For more information, contact Laura Mattila, staff assistant for LSTI.