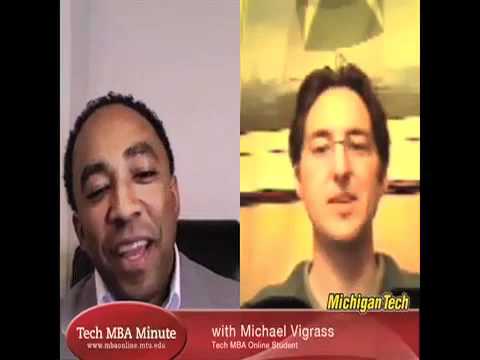 Learn about the finer points of time management and career-life balance from first year Tech MBA Online student, Michael Vigrass, who is a Supervisor of Measurement & Control at DTE Energy in Detroit, MI. Michael is also a husband, father of two children, and lives a pretty action packed life. Watch the video, or see a summary of the conversation below.
Discussion with Mike Vigrass
A major point of emphasis in Mike's program experience is time management. He discusses how balancing his education and career is a family commitment that is supported by his wife. Making sometimes tough decisions on how he spends his weekends and downtime are offset in the short-term by his long-term career goals.
Technology plays a large role in Mike's activities. He uses Toodledo, a free To-Do-List software applicatioin that can be accessed on mobile devices (iPhone and Android), and Google Calendar. Both of these tools help him to track the busy parts of life and effectively meet his MBA requirements. Mike also uses Skype for virtual collaboration with classmates which has made the interaction and engagement with other students quite seamless.
An interesting point that Mike makes is that he  has had more interaction with classmates in his online classes than in some of his on-campus classes as an undergrad at Michigan Tech. Watch the full interview.