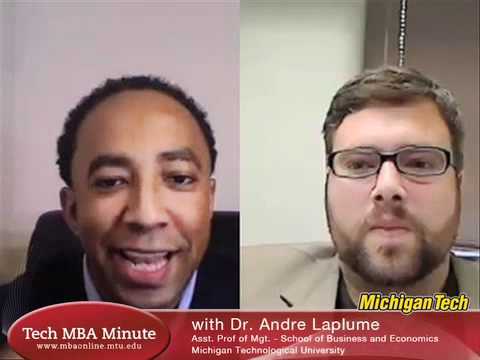 Meet Assistant Professor of Management Andre LaPlume at Michigan Technological University's School of Business and Economics. This interview provides a perspective that covers the academic and practical aspects of the subject of innovation and technology management. Listen in as we cover the following questions:
1. What is technology and innovation management?
Most people have a misconception of the definition of technology. If the question is asked, "What is technology?" You will probably hear typical answers like: iPad, Smartphone, and Bluetooth. Technology is not limited to one industry, but crosses over many domains. The true definition of technology is anything that extends us; our eyeglasses would be an example of this.
2. How does technology and innovation management apply to students with non-engineering backgrounds?
Another misconception is that innovation projects consist of a bunch of engineers huddled together to solve a problem. In reality a project that is innovative should be comprised of a multi-functional team. Innovation management is about developing non-engineers into tech savvy people who can lead technical projects.
3. What is the significance of technology and innovation to the Tech MBA Online program?
The goal is to develop well-rounded graduates who can manage and lead projects within their organizations, whether it be Fortune 500 companies or nonprofits. In a knowledge based economy many of the projects will be impacted by technology and innovation. Our desire with the Tech MBA Online  is to prepare our students for what will be, not what already exists.
Biography
Dr. Andre LaPlume is an assistant professor of management at the Michigan Technological University School of Business and Economics. He is interested in how organizations gain competitive advantage, the process and outcomes of innovation and technological change, as well as stakeholder management and environmental sustainability. His current research examines how organizations balance exploration and exploitation over time in varying environments to achieve competitive advantage through innovation. Prior to joining Michigan Tech, he worked as a business and information technology consultant.