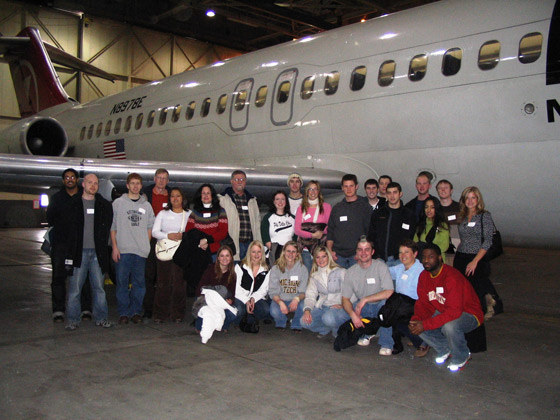 Phi Beta Lambda and MBA students traveled to the Minneapolis/St. Paul International Airport to tour Northwest Airlines. They were also given behind the scenes tours of the Summit Brewing Company and Wells Fargo.
At Northwest Airlines, the students were guided through a seven-hour tour of the operations visiting the maintenance operations, system operations control, and ground operations.
Northwest is currently looking for interns and full-time employees in marketing, finance, and operations. Most of the tour was based on the airline's operations.
Dana Johnson, an Associate Professor of Operations Management, said that even after her experience in operations she was amazed at the extent of how all of the pieces fit together.
"All system operations are contingent on each aircraft," said Johnson. "For each aircraft that arrives at or departs from the airport, the systems operation personnel handle its schedule, crew, maintenance, pilot and how many hours he or she has flown, weather disturbances, and meals. System operations are the heart of the airport."
The group was treated to lunch and a presentation by Executive Vice President of Operations Andy Roberts. He mainly focused on the positives and negatives to the mergers and acquisitions going on in the airline industry. Mr. Roberts also discussed the demand for graduates in the airlines industry.
Ground control handles fuel, food, and gate services; they also assist systems operations control when there are schedule changes by working with gate agents and passengers. The group was also shown the extensive maze behind baggage, terminal, and tarmac operations.
During their Wells Fargo tour, the students learned about client investment services and career opportunities they offer.
At the Summit Brewing Company, the group learned about entrepreneur Mark Stutrud and his journey in funding and owning his own business. They also gained information on operations and marketing of the brewery, which happens to be employee-owned.
Phi Beta Lambda's mission is to bring business and education together in a positive working relationship through innovative leadership and career development programs.