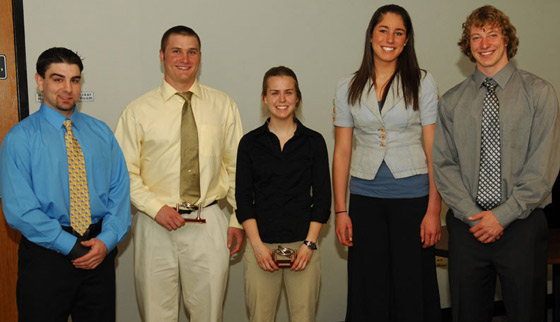 (Pictured left to right: Mike Batovanja, Lee Marana, Kristina Owen, Katie Wysocky, and Steve Short)
Michigan Tech honored its student-athletes and handed out awards at its second annual major awards press conference in the Begg Conference Room of the Peter J. Grant Hockey Educational Center on May 1, 2007. Mike Batovanja, Lars Helminen, Katie Wysocky, and Lee Marana each took high honors.
The Raymond L. Smith Award for the outstanding female and male (co-winners) senior student-athletes went to Kristina Owen (East Wenatchee, Wash.) of the Nordic skiing, cross country and track teams, Lars Helminen (Brighton, Mich.) of the hockey team, and Lee Marana (Ishpeming, Mich./Westwood) of the football team. The Terry Wilson Awards for the top freshman female and male student-athletes went to women's basketball's Katie Wysocky (Whitefish Bay, Wis.) and football's Steve Short (Iron Mountain, Mich./Kingsford). In addition, hockey senior Mike Batovanja (Hinton, Alberta) was given the Rick Webster "SISU" Award.
Owen became Michigan Tech's first-ever Nordic skier to secure All-American honors in three consecutive seasons after finishing eighth in the 15-kilometer classic race at the NCAA National Collegiate Skiing Championships. She also collected all-region accolades in both the freestyle and classic races at the NCAA Central Regional Championships.
Helminen, who was his team's highest-scoring blueliner in each of the past three seasons, provided two goals and 19 assists in his final collegiate campaign. The 5-7, 180-pound co-captain capped his stellar career in 10th place all-time among Husky blueliners in scoring with 14 goals and 68 assists in 153 career games.
Marana was named the All-GLIAC First Team and the team's most valuable player for the second straight season in 2006. The running back ended his career with 4,784 rushing yards, which ranks second all-time in the Michigan Tech record book. The All-American and one-time Harlon Hill Award finalist, Marana owns the GLIAC career rushing record (4,748) and the school record for rushing yards in a season (1,520).
Short totaled 1,361 yards of total offense in his rookie campaign including 956 passing yards and 405 rushing yards. Tech's starting quarterback for the final six games of the season went undefeated as a starter and helped the Huskies finish in the top three in the GLIAC in rushing, total offense, and time of possession.
Wysocky was one of 10 freshman from across the nation to be named to Division II Bulletin's All-Freshman Team. The 6-0 forward, was selected as the 2006-07 Great Lakes Intercollegiate Athletic Conference Freshman of the Year, and was a member of the All-GLIAC North Division Second Team. She averaged 12.5 points and 7.3 rebounds per game and totaled the most rebounds (132) by a Tech player since 1993-94.
The "SISU" Award is a special honor bestowed upon an individual associated with athletics at Michigan Tech who has overcome adversity, exhibited courage through difficult situations, performed with pain/injury, or performed admirably after recovering from a severe injury. The word "SISU" comes from the Finnish language meaning "guts."
Batovanja, who was one of six finalists for the Derek Hines Unsung Hero Award, led his team in hits and only missed three games despite numerous injuries throughout the season. A co-captain, Batovanja tallied two goals and three assists in his senior year, and posted 13 goals and 31 assists in 146 games as a collegian.
Several other awards were presented at the press conference including the Ken Hamar Award, which is given annually to a "true supporters" of the Michigan Tech athletic program by the Huskies Club. The Hamar Award was presented to Erik and Jane Nordberg.
Michigan Tech athletics director Suzanne Sanregret presented two honorary awards. An honorary letter was presented to Dirk Hembroff, who is the radio voice of the hockey and football Huskies. An honorary blanket was given to Tech's director of sports and recreation Mike Abbott.
(story courtesy of MTU Athletic Communications)