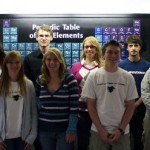 The American Chemical Society has recognized the ACS Student Chapter at Michigan Technological University with a Commendable Chapter Award.
The chapter was cited for its involvement in multiple activities, including judging the area science fair; conducting a lab inventory for the chemistry department; participating in National Chemistry Week and in Science Night, an event sponsored by the Western U. P. Center for Science, Mathematics and Environmental Education; and more.
For more information, read the Michigan Tech News article.