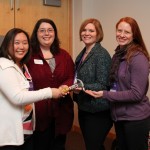 The Society of Women Engineers (SWE) section at Michigan Tech hosted the 2014 Region H SWE Conference on Michigan Tech's campus Feb. 14 to 16. There were approximately 700 in attendance.
The conference drew members from nine Midwestern states. Three quarters of registered attendees are collegiate section members, with the rest coming from professional sections.
The c onference activities included: A networking lunch with industry professionals, a Career Fair with companies looking to recruit female employees, and a keynote speech by Patricia K Poppe, the vice president of customer experience and operations for Consumers Energy and a banquet speech by Martha Sullivan, the president and CEO of Sensata Technologies.
Photo Gallery of Events at the Society of Women Engineers Conference at Michigan Tech
Reaching for the Future at Society of Women Engineers Conference
Closing the Gender Gap: Michigan Tech Recruitment Initiatives Aim to Attract Female Students
Article in Houghton Daily Mining Gazette