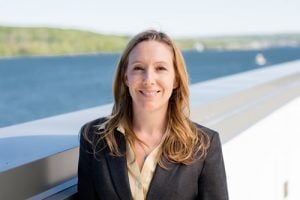 Adrienne Minerick (ChE) has been named as one of 26 women faculty members from 23 different universities across the US and Canada in the 2017-18 class of ELATE at Drexel Fellows.
ELATE at Drexel is a professional development program for women in the academic STEM fields. Each Fellow was nominated by her dean or provost and will contribute to institutional initiatives as she expands her leadership skills.
I'm honored to have been selected as an ELATE fellow and look forward to the opportunity to learn how to enhance Michigan Tech's mission along with strategies to lead and manage change initiatives. Adrienne Minerick
Minerick is associate dean for research and development in Tech's College of Engineering.
ELATE at Drexel is a one-year, part-time program that focuses on increasing personal and professional leadership effectiveness, leading and managing change initiatives within institutions, using strategic finance and resource management to enhance organizational missions and creating a network of exceptional women who can bring organizational perspectives and deep personal capacity to the institutions and society they serve.
"Michigan Tech is exceptionally pleased that Adrienne was selected for the 2017-2018 Fellowship program at Drexel University to continue with her leadership and professional development," said Ellen Horsch, vice president for administration.
Adrienne is one of 10 individuals currently engaged in our Excellence in Leadership Development program, a professional development program designed and tailored to support specific growth and advancement at Michigan Tech. I truly look forward to Adrienne's success as a leader and as a scholar.Ellen Horsch
By Jenn Donovan.