Category Archives: Announcements
---
---
The Margaret Dittman Memorial Education Grant was established by her husband, Mr. Gene Dittman, to assist past and present graduates of Ewen-Trout Creek High School of good character and in financial need to continue their education. Mr. Dittman recognizes the rising cost of higher education has made it more difficult for individuals of modest means to advance and complete their education. Through his generosity, this grant will be offered biannually.
The Ewen-Trout Creek Community Education Committee will be accepting applications, for the 2017 Fall semester, for this unique grant opportunity. Only completed applications postmarked by the deadline date will be considered.  The grant is awarded for the 2017 Fall semester only.  You must be a full time student, 12 credits or more. The deadline for application submission is FRIDAY, SEPTEMBER 29, 2017.  The number of grant recipients and the award amount will be determined by the grant review committee.
Any further education you are seeking, a 2 year degree, a trade school degree, a 4 year degree or beyond,  PLEASE APPLY.  Even though you have submitted an application in the past, you may have been a recipient, or financial need/status has changed, PLEASE APPLY.
The names of the recipients of the grant will be released to local media for publication. The Committee will only notify the applicants selected for the grant award.
To request and submit an application, please contact:
Ewen-Trout Creek Community Education Committee % Tammy Gibson
14312 Airport Road
Ewen, MI  49925
Or call, 906-813-0620 
---
Some details of the scholarship include:
Application deadline: July 17th, 2017. Date that winner will be notified: August 10th, 2017.
Instructions for students:
---
Scholarships available from the Community Foundation for Northeast Michigan.  To be considered, students must be from Alcona High School (Alcona High School), Alpena High School (Alpena County), Posen High School (Presque Isle County), or Rogers City High School (Presque Isle County).  Please see http://www.cfnem.org for more details and to apply.
---
---
The Open Education Database has been one of the most comprehensive collection of online college rankings and free courses anywhere online since 2007. They welcome learners of all levels to explore their interests and prepare for exciting new careers, build on existing foundations of education and experience, or just satisfy a craving to learn something completely new.
Student can search for scholarships using this link: http://oedb.org/scholarships/
---
---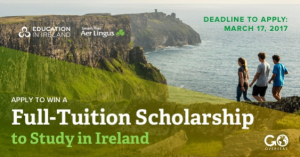 We're thrilled to announce that Go Overseas and Education in Ireland are awarding 26 scholarships worth more than $290,000 in tuition for studying abroad in Ireland —including master's degree programs!
These 26 scholarships cover tuition at 12 academic institutions throughout Ireland. Of these 26 scholarships, 9 are for master's programs at institutions like Trinity College of Dublin, University of Limerick and Mary Immaculate College.
The amount of each tuition waiver varies by program and the scholarships cover tuition only; students will be responsible for travel, accommodations and any additional provider fees
To apply: Students will need to complete an application and submit a short essay and a creative photo that celebrates Ireland. The application can be found here.
Applications are open now. The deadline to enter is March 17, 2017. Winners will be announced shortly thereafter. Please share with your students (download a printable PDF here) and on social media with the hashtag #GoStudyIreland.
---
The Board of the Upper Peninsula Road Builders Scholarship Fund is offering scholarships to currently enrolled Civil Engineer and Survey Engineering students at Michigan Tech University.  The awards range between $500 and $1,000 and are not renewable. The scholarship application (attached) has information on selection criteria, as well as information about the UP Road Builders and the people who have set up endowments in their name under this family of scholarships.
Due May 1, 2017 by 5.pm.
Application: UP Road Builders Scholarship Application 2017-2018 new
---
Michigan Tech is accepting letters of recommendation for the Galatians 6:10 Scholarship
The winner of this scholarship will receive four years of tuition at the Michigan resident tuition level. The criteria are simply that the incoming freshman be pursuing a degree in Engineering or the Sciences, that they submit a letter of interest to tell the donor more about themselves and their faith, and that they obtain a letter of support from a member of the Clergy who is willing to speak on their behalf. As a public school this is data that we don't collect, so this extra step is always needed.
The deadline is March 30, 2017.
After the student applies and is accepted to MTU, they simply send these two letters to the Student Financial Services Center at  Michigan Tech, 1400 Townsend Drive, Houghton, Michigan, 49931.
You may contact Ben Larson at balarson@mtu.edu, cell 906-370-8797 for more details.
---