Wednesday, November 27th, 2013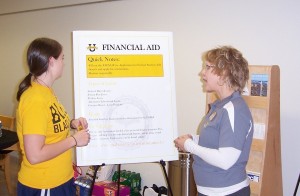 Over 165 students participated in the 2nd annual FinanceU Financial Literacy Event held in the Van Pelt and Opie Library on November 20th.
FinanceU is a financial literacy education program partnered between the Office of Financial Aid and the Michigan Tech Finance Club. The event was held to increase student awareness of financial literacy and provide tips on how to get on a financially sustainable path that will carry students into their careers. Students were shown how sound financial decisions now will enable them to live the life that they desire later.
Members of the Finance Club and Cindy Cowell from the Office of Financial Aid, were on hand to offer students information on budgeting, saving, financial aid and retirement. The Wells Fargo Store Manager, Ellie Freeman, also volunteered at the event. CashCourse, a free financial literacy tool sponsored by the Alumni Association and hosted on the Financial Aid website was also featured.
In addition to information about personal finance, students were asked to complete a short survey covering areas such as their current method of budgeting, Federal Direct Student Loan knowledge and any additional areas in which they have questions. Students also were asked to disclose their grade level and major. The number of surveys collected more than doubled those in 2012. Just under 200 students completed surveys while they enjoyed a pre-Thanksgiving snack. The surveys will be compiled and compared to the 2012 results, allowing the partners to begin to mine the data for insights about Michigan Tech students' financial literacy.
The Finance Club is advised by Emanuel Oliveira, Assistant Professor of Economics. The Financial Literacy Program is available for presentation to any student group. For more information or to schedule a presentation, contact Cindy Cowell in Room 143 of the Waino Wahtera Center for Student Success in Administration Building or at ccowell@mtu.edu or 906-487-2622.