Isle Royale, Summer 2012.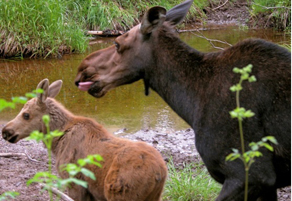 Join us in the field for a Moosewatch research expedition as part of the Wolf-Moose Study program on Isle Royale!
Do you have an interest in wildlife ecology and wolf-moose dynamics? Are you passionate about wilderness camping and our National Parks? Are you a hardy soul with a tolerance for bugs, lack of conveniences, and long days of rugged hiking? If so, please consider a special opportunity to volunteer for the renowned wolf-moose study at Isle Royale National Park. Expedition teams are being organized right now
Expedition #1: May 5–13, via Voyageur II, Grand Portage, MN
Expedition #2: May 14– 21, via Queen IV, Copper Harbor, MI
Expedition #3: May 26–June 3, via Voyageur II, Grand Portage, MN
Expedition #4: July 31–August 8, via Ranger III, Houghton, MI
Please visit www.isleroyalewolf.org (click on Research Expeditions) to learn about how you can participate this summer. You will find information about the Moosewatch research expeditions, photos, and how to apply. If you have specific questions, please contact Ken Vrana (kjvrana@mtu.edu), director, Isle Royale Institute.
We hope to see some of you on the island this summer!
John Vucetich and Leah Vucetich
Rolf Peterson and Candy Peterson