Tuesday, October 4th, 2011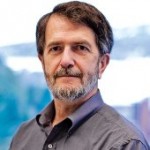 Wayne Pennington, chair of the geological and mining engineering and sciences department, has been named president of the American Geosciences Institute (AGI).
Pennington received degrees in geophysics and geology from Princeton University (BA in 1972), Cornell University (MS in 1976) and the University of Wisconsin-Madison (PhD in 1979). He has been a professor of geophysical engineering at Michigan Tech since 1994 and became GMES department chair in 2003.