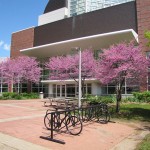 Jason Gulley (GMES) has received a $23,673 research and development grant from the National Science Foundation for the project "Collaborative research: Visualization, Analysis and HPC Modeling of Subglacial Hydrology from High-Resolution 3D Conduit Scans Acquired with a Novel Sensor." This is a two-year project.
An article by PhD candidate Lauren Schaefer (GMES, Geological Engineering) and adviser Thomas Oommen (GMES), "Geomechanical rock properties of a basaltic volcano," has been chosen to be featured on the homepage of Frontier's website. The article can be found under the 'Earth Science' category here.
Geohazards International published an interview with College of Engineering Dean Wayne Pennington, about preparing for earthquakes in Nepal. The interview was conducted by Science Around Michigan.
Technology Century, a science and technology news website published by the Engineering Society of Detroit, reported on a visit by ESD executives to Michigan Tech and plans to establish a student chapter of the ESD at Michigan Tech.
Technology Century, a science and technology news service published by the Engineering Society of Detroit, ran an article about Associate Professor Aleksey Smirnov's research into the ancient earth's core. Science360, the National Science Foundation's science news website also published an article about Smirnov's research into the earth's ancient core.
Lauren N. Schaefer, PhD candidate in geological engineering, has been selected as the 2015 Marliave Scholar by the Association of Environmental and Engineering Geology (AEG) Foundation. The $4,000 scholarship recognizes outstanding scholarship and professional dedication by students in Engineering Geology or Geological Engineering. Schaefer's PhD advisor is Thomas Oommen.