Category Archives: Uncategorized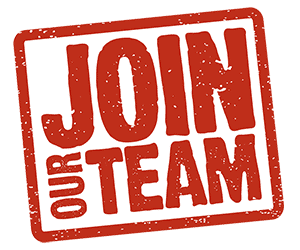 Are you interested in becoming our next Lecturer in Mining Engineering? I promise you'll be joining a GREAT team! Details can be found here.
---
An alumna of GMES is one of seventy-five distinguished scientists to receive the distinction from groups representing their disciplines within the American Geophysical Union.
Lauren N. Schaefer, University of Canterbury, is a recipient of the 2017 Natural Hazards Focus Group Award for Graduate Research. Lauren earned her Ph.D. in Geological Engineering from Michigan Tech in 2016 under the advising of Dr. Thomas Oommen.
Congrats, Lauren! We're all cheering for your continued success. 
https://eos.org/agu-news/2017-agu-section-and-focus-group-awardees-and-named-lecturers
---
Despite broad understanding of volcanoes, our ability to predict the timing, duration, type, size, and consequences of volcanic eruptions is limited, says a new report by the National Academies of Sciences, Engineering, and Medicine. Meanwhile, millions of people live in volcanically active areas around the world.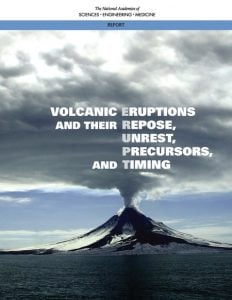 Volcanic Eruptions and Their Repose, Unrest, Precursors, and Timing (ERUPT) identifies grand challenges for the scientific community to better prepare for volcanic eruptions. Michigan Tech volcanologist Simon Carn (GMES) was an author on the report, and served with 11 other volcanologists and scientists on the Committee on Improving Understanding of Volcanic Eruptions that prepared the report. Their goal: improving eruption forecasting and warnings to save lives.
According to the NAP media release on the report, "Volcano monitoring is critical for forecasting eruptions and mitigating risks of their hazards. However, few volcanoes are adequately observed, and many are not monitored at all. For example, fewer than half of the 169 potentially active volcanoes in the US have any seismometers–an instrument to detect small earthquakes that signal underground magma movement. And only three have continuous gas measurements, which are crucial because the composition and quantity of dissolved gases in magma drive eruptions. Enhanced monitoring combined with advances in experimental and mathematical models of volcanic processes can improve the understanding and forecasting of eruptions."
"This report was requested by NASA, NSF and USGS, the three main sources of funding for volcano science in the US, to identify some of the grand challenges in the field," says Carn. "It was a privilege to serve on this distinguished committee and help craft a document that we hope will guide and strengthen future research efforts in volcanology."
"The National Academies convenes committees of experts to review the current understanding of pressing issues and identify priorities for future progress in addressing the issues," adds Michigan Tech  Department Chair John Gierke (GMES). "Committee reports play important roles in formulating government policies and setting priorities for funding scientific research. Dr. Carn is a global leader in remote sensing for monitoring volcanic emissions and surely contributed a comprehensive assessment of the state of knowledge and recommend how different disciplinary fields could bring new perspectives and approaches to advance the understanding of volcanic hazards."
Electronic (free) and hard copies ($40) of Volcanic Eruptions and Their Repose, Unrest, Precursors, and Timing are available online. More information is available in the NAP media release about the report.
The 2016– 2017 Eruption of Bogoslof Volcano, Aleutian Islands, United States
Bogoslof, a remote, mostly submarine volcano in the Aleutian Island arc began erupting in late December 2016 and activity continues as of February 2017. The Bogoslof eruption highlights several of the challenges facing volcano science. Over one month, the volcano produced numerous explosions with plumes rising 20,000–35,000 ft, posing a significant hazard to North Pacific aviation. There are no ground-based instruments (e.g., seismometers) on the volcano, and so the USGS Alaska Volcano Observatory (AVO) has been relying on distant seismometers, satellite data, infrasound, and lightning detection to monitor activity (Challenge 3). Bogoslof's submerged vent obscures any preemptive thermal or gas signals, and infrasound and lightning are detectable only after eruptions have begun (Challenge 1). AVO has been unable to provide early warning of these hazardous events. The eruption also highlights our limited understanding of magma–water interactions and raises important questions regarding the controls on phreatomagmatic explosivity, column altitude, ash removal, and pauses (Challenge 2). In more than 20 discrete events, the emerging volcano has reshaped its coastlines repeatedly, providing snapshots of volcano–landscape interactions. The figure below shows the first evidence for an ash-rich (brown-grey) plume, almost one month into the eruptive activity.
Excerpted from Volcanic Eruptions and Their Repose, Unrest, Precursors, and Timing, National Academies of Sciences, Engineering, and Medicine, April 2017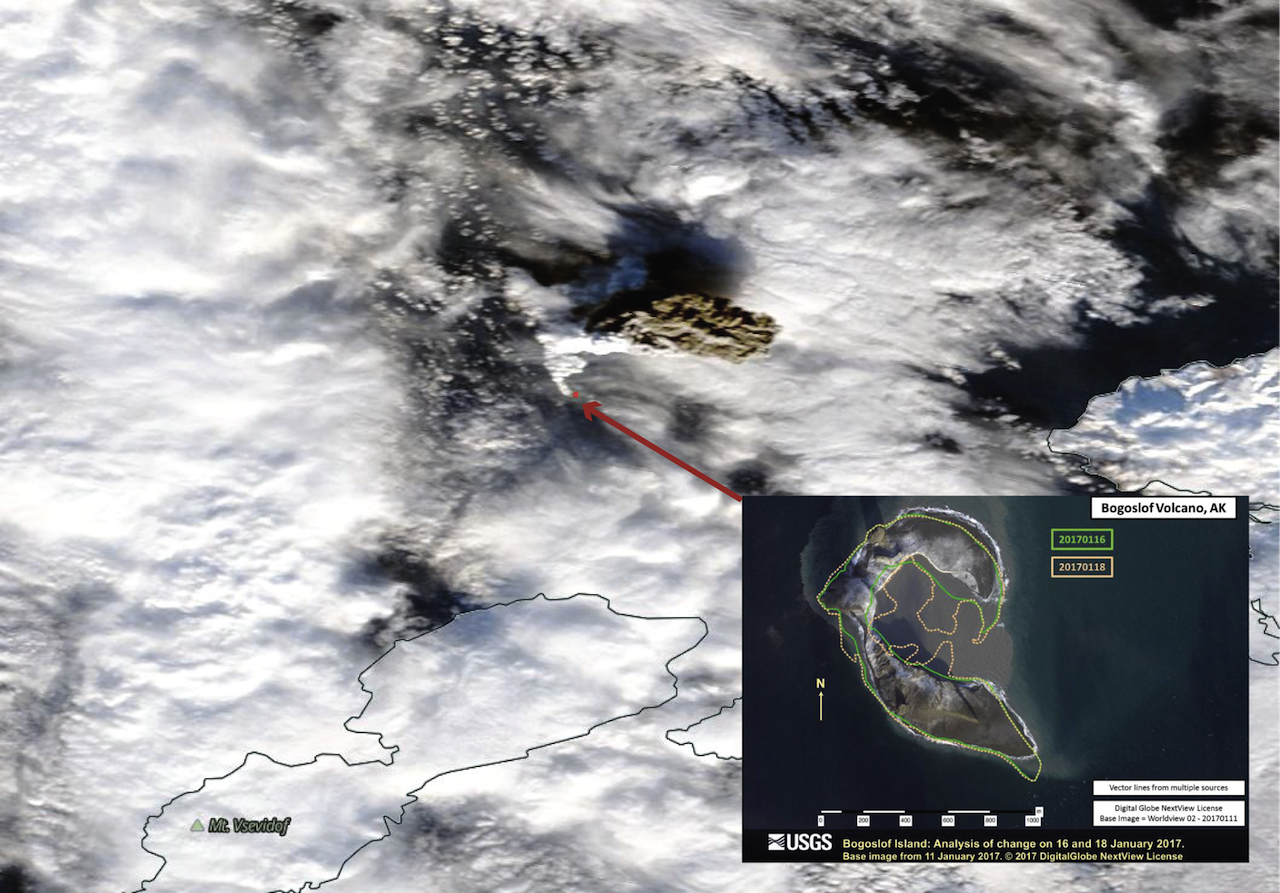 ---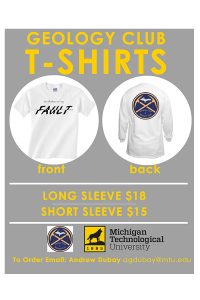 'San Andreas isn't my FAULT'
The Michigan Tech Geology Club is designed to allow students to discover the properties of minerals and geological environments through mineral collection excursions, mine tours, and geologically related field trips.
To order your long sleeve OR short sleeve GeoClub tee today, email Andrew at agdubay@mtu.edu.
For more information on the GeoClub visit: https://https://www.involvement.mtu.edu/organization/geology-club
---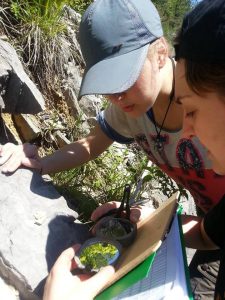 John Gierke, GMES professor and department chair,  is a co-director of Michigan Tech's partnership with five universities on a three-year NATO Science for Peace and Security Programme. This international, multi-institutional project is co-directed by Professor Alessandro Tibaldi of the Department of Environment and Territory and Earth Sciences at the University of Milan-Bicocca and Dr. Nino Tsereteli of the M. Nodia Institute of Geophysics of Tbilisi State University.
The project focus is the study of natural hazards that could undermine social and geopolitical stability of a delicate Transcaucasian region located between Georgia and the breakaway region of Abkhazia, near the Enguri dam, the second highest arch dam of the world, which provides approximately half of the electrical energy for Georgia.
The US project team consists of Gierke and Michigan Tech GMES associate professor Thomas Oommen. They are advising Master's student Maria Diletta Acciaro, who is pursuing a joint MS in Geology with Michigan Tech and her home institution, the University of Milan-Bicocca.
Their first project mission was in early November 2015 in Tbilisi with a kickoff meeting between the project scientists. The second mission, which took place last May 11-25, 2016, was focused on mapping and characterizing landslides and hillslopes surrounding the reservoir and that pose potential hazards to the safety the Enguri dam. "Landslides and rock falls are common on the steep slopes of these highly-weathered mountainous areas. Larger events could be triggered by heavy rains and seismicity," says Gierke. He and Acciaro worked with their Georgian counterparts to measure rock and soil strength for the different surficial formations in the reservoir area.
The team is estimating the relative risk of different slopes surrounding the Enguri Dam using computer models that forecast landslide susceptibility. Their estimates are based on the topography (slope), geology, and strength properties of the soils and rocks. "One of the codes allow us to include seismicity in the forecasting and the other will let us explore rainfall intensity," adds Gierke.
Read more about the project online. See photos from the May 2016 trip here.
---
President Barack Obama honors Assistant Professor Colleen Mouw with the Presidential Early Career Award for Scientists and Engineers.
"These early-career scientists are leading the way in our efforts to confront and understand challenges from climate change to our health and wellness," said President Obama.
All 106 recipients of the award are selected for their pursuit of innovative research at the frontiers of science and technology and their commitment to community service as demonstrated through scientific leadership, public education, or community outreach. The winners will receive their awards at a Washington, DC ceremony later this spring.
To read the official White House Press Release click here.
---