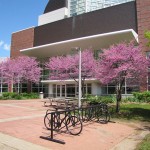 Lauren N. Schaefer, PhD candidate in geological engineering, has been selected as the 2015 Marliave Scholar by the Association of Environmental and Engineering Geology (AEG) Foundation. The $4,000 scholarship recognizes outstanding scholarship and professional dedication by students in Engineering Geology or Geological Engineering. Schaefer's PhD advisor is Thomas Oommen.
The Michigan Tech Vice President for Research Office announces the Research Execellence Fund Awards. Thanks to the volunteer review committees, as well as the deans and department chairs, for their time spent on this important internal research award process. Research Seed Grant: Snehamoy Chatterjee, GME; Link to full list
A Q&A with George Robinson, retired curator at the A.E. Seaman Mineral Museum and geology professor, was published in EARTH. The recent donation of a significant Russian tourmaline to the A. E. Seaman Mineral Museum was highlighted, along with a color photo, in the magazine Rocks and Minerals, Museum Notes published January/February 2015. The tourmaline was donated to the museum by long-term museum supporter Bill Shelton of Tucson, Arizona, who specializes in collecting Russian minerals.
Joshua Pearce (MSE/ECE) was quoted in a story "Can Open Source Really Work
Associate Professor Aleksey Smirnov's (GMES) research on the rapid movement of the North American tectonic plate a long time ago was reported on the science news website Science Around Michigan.
Technology Century, a news wire published by the Engineering Society of Detroit, featured a story about Assistant Professor Jason Gulley's (GMES) research in ice caves in the Arctic.
Simon Carn (GMES/EPSSI) has received $9,892 from the University of Maryland College Park for the first year of a potential three-year project that will total $107,472. The title of the research project is "Extending NASA's Long-Term Satellite Data Records: Advanced SO2 and NO2 Measurements from Suomi NPP OMPS."
Alexandria Guth published "Volcanic Volumes Associated with the Kenya Rift: Recognition and Correction of Preservation Biases" in Geological Society, London, Special Publications.
Simon Carn (GMES/EPSSI) has received $13,485 for the first year of a potential three-year project totaling $167,600 from the National Aeronautics and Space Administration, Goddard Space Flight Center. The project is titled "Volcanic SO2 and Ash Products from EPIC Observations."
GMES PhD student, Elisa Piispa, has won an Outstanding Student Presentation Award at the American Geophysical Union's annual meeting. The title of Elisa's presentation was "Paleomagnetism of the 1.1 Ga Baraga-Marquette dykes (Michigan, USA)". The AGU Annual meeting was held in San Francisco, CA, December 15-19, 2014. Piispa's PhD advisor is Aleksey Smirnov.
Upper Peninsula Second Wave, a website featuring UP news, published an article about the under-ice research being done by Tech's GLRC.
Assistant Professor Thomas Oommen (GMES/CEE) is mentioned in the December 2014 issue of the ASCE's Civil Engineering Magazine. Oommen is collaborating with researchers from the University of Arkansas and Idaho State University to develop a device that could help detect post-wildfire landslides through remote sensing.
Thomas Oommen (GMES/MTTI) has received $116,864 from the University of Arkansas for a two-year research project, "Remote Sensing Based Assessment System for Evaluating Risk to Transportation Infrastructure Following Wildfires."