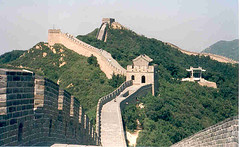 The protocol used to access your windows desktop remotely (RDP) has been blocked at the campus border as a result of a sustained cyberattack that was starting to compromise some machines on campus.
In order to protect our campus assets, and minimize the disruption caused by these attacks, IT has had no choice but to block the protocol at the campus router, which means users will be unable to connect to their campus desktops directly; instead users are advised to connect to campus through our virtual private network (VPN), accessible through vpn.mtu.edu.
Please contact User Services (487-1111, it-help@mtu.edu) if you need help using our VPN system.
Photo "1997 China – Great Wall" (c) 2011 nlnnet, on Flickr