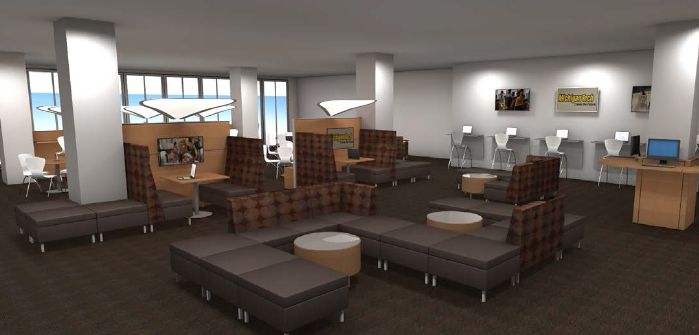 The Michigan Tech Library is undergoing a major renovation this fall to create a more technologically advanced learning environment to meet the evolving needs of students.
The Information and Learning Commons Development is a cooperative effort of the Michigan Tech Library and Information Technology Initiative to enhance computing and Information Access Support for Michigan Tech Students.
This includes:
New, faster computing equipment – Dell Optiplex 9020 All-in-One desktops will be installed throughout the library.
A more open and collaboration-friendly environment – To better meet the evolving learning and computing needs of students, changes such as clusters optimized for collaboration and teamwork, more tools including whiteboards throughout, ergonomic computing desks and chairs (with AC/USB power points), shared collaboration screens, and digital signage will be installed throughout the upcoming school year.
Expanded Availability – Operating hours will be increased to 24 hours a day, 7 days a week.
The migration of open lab seats to a common location in the Library – Current "open" computer labs will be repurposed and refurnished as wireless lounges and academic spaces. A list of affected labs can be found at the computer lab listing page.
The Michigan Tech Information and Learning Commons Development is a joint project of the J. Robert Van Pelt and John and Ruanne Opie Library and Information Technology Services and Security. For more information, please visit http://it.mtu.edu/ilc.