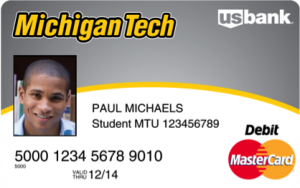 Michigan Tech IT is upgrading the campus card system by transitioning to a contactless smart card and reader system. The new system will be compatible with all of the current card functions such as student, faculty, and staff ID card, library card and meal plans. In addition to providing identification and access, the HuskyCard may optionally be used as a prepaid debit MasterCard, providing students the ability to receive same-day refunds.
The HuskyCard will have two magnetic stripes, one yellow, and one black, as well as a contactless smart chip. Information will be stored on both the yellow stripe as well as the smart chip to allow for a transition to new technology without interrupting current service offerings. When a contactless smart chip reader is installed, card users will be able to "tap" (hold the card very close to the reader) their card against the reader to execute transactions. If you encounter a magnetic stripe reader, swipe the yellow stripe.
The goal is to replace all swipe readers with contactless smart chip readers; including parking gates and computer lab print release systems. Parts of the current system are running on antiquated technology and need to be replaced as soon as possible. Other parts have been updated over the years and will remain compatible with the new system.
All Michigan Tech students, faculty, and staff will be required to receive a new HuskyCard with the contactless smart chip technology. You can exchange your current ID in the library from Aug. 26 until Sept. 15. Save time by updating your picture and preferred name at HuskyCard Photo Upload.
Note that all HuskyCards now have a 16-digit MasterCard number on the front of the card, as well as a black magnetic stripe. The black stripe should only be used for debit MasterCard transactions. The 16-digit number is associated with an optional prepaid debit account, and is only activated if one chooses to "register" their HuskyCard. As a result, new precautions must be taken by campus departments that use the HuskyCard. For example, the temporary holding of another person's card in all cases is no longer appropriate, and new business processes must be put in place. The HuskyCard should be treated as if it were a personal credit card.
More information about the new HuskyCard is available at HuskyCard.
For questions about the proper handling of HuskyCards, please contact it-help@mtu.edu.