Need a computer to finish your homework?
Michigan Tech Information and Technology Services is responsible for maintaining the open computing labs on campus.  We maintain over 750 computers in labs across campus available for students use.  IT maintains Windows, Linux, and Apple Macintosh computers with many specialized applications.  Available software is listed on our website here (https://www.it.mtu.edu/software/labsoft.php).
We are often asked "Where can I find a computer to use?"  To assist students in locating an available computer, we use an application called Labstats to provide real-time usage information. You can view the available computer labs along with their available seats on our website at https://www.it.mtu.edu/computer-labs/index.php.
If you're looking for a seat in the library, check out the new digital sign/map with real-time computer usage in the entrance to the Van Pelt and Opie Library. Floors refresh every 20 seconds.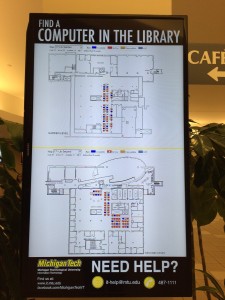 Looking for an open computer from your phone?  Michigan Tech's Mobile app available for both Android and iOS devices provides access to Lab-Stats.
If you ever have questions on available computer resources, please contact Michigan Tech Information Technology at 906-487-1111 or by email at it-help@mtu.edu.