The Tamarack Mine Experiments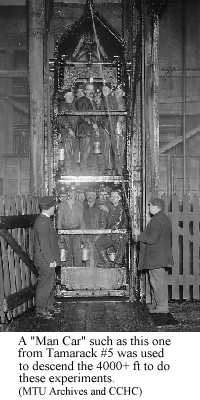 The mine shafts which existed in the vicinity of the College provided a unique opportunity for physics research. This was particularly so for the Tamarack Mine shafts which were vertical and almost a mile deep. In 1901 the Physics faculty (McNair, Fisher, Osborne, and Grant) along with John B. Watson, chief engineer, and George Slock, assistant engineer, of the Tamarack mining company,1 began experiments using long pendulums (pendula) as plumb bobs in the #2, #4, and #5 shafts of the Tamarack Mine. The goal of these measurements was to transfer a reference line from the surface to aid future horizontal drilling operations. Being physicists, one of the first results which shows up in the lab notebook is the period of the pendulum, a result which is largely irrelevant for use as a plumb bob.
The first pendulums were made with #24 steel piano wire and 50 pound cast iron weights and were hung 4,250 feet down shaft #5. The period of these pendulums was 70 seconds. The weight actually stretched the wire about 15 feet. For some measurements the weights were placed in oil or water to help damp the motion though this was insufficient to completely stop the motion.2 They typically used multiple measurements of the oscillating pendulums "as in the method of determining the zero point of a balance by observing the oscillations of its pointer," rather than waiting for the motion to stop.