Alumni and friends in the West Michigan area have been enjoying a variety of events, from bowling to holiday parties to cheering on the hockey team! If you'd like to follow along with what is happening in the West Michigan area, check out the West Michigan alumni Facebook page.
Bowling at Clique Lanes — September 28, 2022
Alumni enjoyed an evening of bowling at Clique Lanes, Grand Rapids. We rented the second floor with eight lanes for a two-hour bowling session. The attendance of nine bowlers was well below the expected capacity of 32 people, so there was ample space for everyone. We even had a 3-year-old in the group who used a ramp to launch his ball. Emma Zawisza '12 organized the event.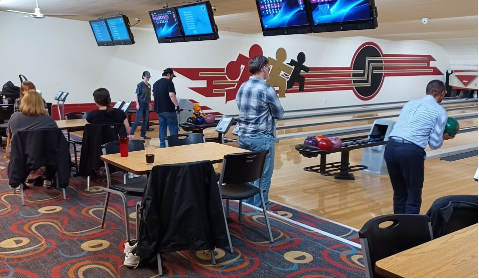 Jim Crouch '90 preparing to bowl.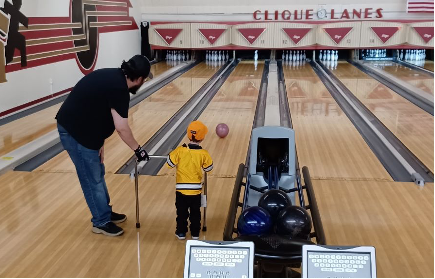 3-year-old boy used a ramp to release the ball.
Holiday Party at The Mitten — December 1, 2022
To kick off the Holiday Season, a pizza and pub night was held at The Mitten Brewery in Grand Rapids. This event drew 40 people. Various gourmet pizzas, chicken wings, and delicious breadsticks gave everyone all they could eat. The Mitten Brewing Company was founded in November 2012 by lifelong friends Chris Andrus and Max Trierweiler and is located in historic Engine House No. 9. They offer a good variety of different styles of beer, so they have something for everyone's tastes.
Michigan Tech's Office of Alumni Engagement worked with alum host Emma Zawisza '12 to organize the event, which also featured a drawing for door prizes with items courtesy of the Office of Alumni Engagement. One of the winners of a Husky blanket was Ron Vriesman '78 from Spring Lake.
Michigan Tech vs. Ferris Hockey Pregame Social — January 21, 2023
About 68 people attended a pregame social at Cranker's Brewery in Big Rapids. Coach Joe Shawhan was able to attend, mingled with alumni, and gave a game update prior to heading off to the pregame meetings and warm-ups. In front of a packed house, the nationally #14 ranked Michigan Tech Huskies tied Ferris State University Bulldogs 3-3 in an overtime game. The Bulldogs won a shootout victory following the tie.
Husky Hockey Game Watch — January 28, 2023
The game between Michigan Tech and Northern Michigan was live-streamed at Schmohz Brewing Co. The watch party went well (and we got the win 4-1 after an 0-3 loss on Friday)! Anticipated attendance was down slightly because of the weather (we got about 4″ of snow and the roads were a little sloppy) but everyone had a good time. We plan to do more events like this in the future.