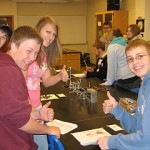 Contact phone number: Jeff Lewin, 906.487.3435
The nineteenth annual Department of Biological Sciences Bioathlon for high school biology students was held on Wednesday, May 7, at Michigan Technological University. Simultaneously, a workshop was held for the accompanying biology teachers. The Bioathlon serves as a means to stimulate interest and problem-solving in biology among our area youth. Teams from 17 Upper Peninsula Michigan high schools participated.
The team winning FIRST PLACE was A.D. Johnston High School, Bessemer.
Coach: David Rowe
The team winning SECOND PLACE was L.L. Wright High School, Ironwood.
Coach: Paul Mattson
The team winning THIRD PLACE was Negaunee High School, Negaunee.
Coach: Sherri Holmgren
Each team was composed of four students who have not had formal class work in biology beyond the traditional sophomore high school general biology course. Teams had one hour for each of four problems:
Problems to Solve
Dissection Problem designed by Ronald Gratz, Ph.D.
Exercise Sciences designed by Eunice Carlson, Ph.D
Field Identification Problem designed by Robert Keen, Ph.D
Healthy Choices for Teens designed by Karyn Fay, M.S., MT (ASCP) SH, Alice Soldan, M.S. MT (ASCP), CLS (NCA), Tara Waybrant, B.S. and Marie "Katie" Lanczy.
Dr. Bruce Seely, Dean, College of Science and Arts, presented the awards. Each member of the first-place team received a $200 U.S. Savings Bond; the second-place team received a $100 U.S. Savings Bond; and the third-place team received a $50 U.S. Savings Bond. A plaque was awarded to the first-, second- and third-place teams. Each student who participated in the competition also received a certificate of participation and a Bio-Athlon T-shirt.
Teacher activities included:
Adult insect heads: a review of insect morphology and maturity patterns, collection and classification of insects, and identification of methodology weaknesses led by Chris Hohnholt, Director of Recruiting and Development, School of Forest Resources and Environmental Sciences.
A presentation by Andrea Taglione, President of the Michigan Chapter of Health Occupation Students of America.
This year's student Bio-Athlon competitions and teachers' workshops were organized by Jeff Lewin, M.S., Ron Gratz, Ph.D. from the Department of Biological Sciences. Funding is provided by MTU Admissions, the Department of Biological Sciences, the Michigan Tech Fund, and MTU Alumni Mark Cowan, M.D., Olive Cornish Kimball, D.Ed., Ph.D., Robert DellAngelo, M.D., and Sandra Lewin.
The following high schools were represented:
| High School | Teacher/Coach |
| --- | --- |
| A.D. Johnston High School | David Rowe |
| Sam Kolesar, Lilly Mattson, Nick Laukka, Joe Jendrusina | |
| Baraga Area High School | Darla Olson |
| Paige Maskill, Rebecca Rasanen, Michael Jones, Nathan Eilola | |
| Calumet High School | Jen Peters |
| Hurricane Hamilton, Shane Saari, Derek Pierce, Kyle Swanson | |
| Chassell High School | Mary Markham |
| Jack Ladd, Angela Young, Gina Kilpela, Lauren Hietiala | |
| Dollar Bay High School | Sara Moilanen |
| Tayler Quarless, Jocelyn Tervo, David Townsend, Stephanie LeClaire | |
| Forest Park High School | Jen Toivonen |
| Anna Nordeman, Andrea Bal, Korie Kezerle, Erin Kirkpatrick | |
| Gladstone Area High School | Kathy Becker |
| Jenna Bernson, Dan Becker, John Cretens, Michael Martin | |
| Hancock High School | Kristin Schourek |
| Samantha Henderson, Josh Fenske, Jonathan Manderfield, Alan Tocsydlowski | |
| Houghton High School | Lauri Davis |
| Weijie Gao, Evan Griffith, Hannah Tepsa, Eli Karttunen | |
| Jeffers High School | Tim Keteri |
| Taylor Erva, Brenda Kinnunen, Shawnee Rajala, Steven Doresy | |
| Lake Linden-Hubbell High School | Kelly Wiegand |
| Courtney Perreault, Sarah Gilreath, Warren Kesti, Zach Hendrickson | |
| L'Anse High School | Betty Cangemi |
| Cody Carter, Gary Gagnier, Dylan Cassel, Joe Fedie | |
| Luther L. Wright High School | Paul Mattson |
| Jason Suckow, Troy Rooni, Kurt Kilpela, Ali Dahlbacka | |
| Negaunee High School | Sherri Holmgren |
| Kyle Ekstrum, Hannah Gottlieb, Chelsea McGrath, Anna Hayrynen | |
| Superior Central High School | Matthew Spreitzer |
| Kaitlyn Richmond, Amanda Steinhoff, Samantha DeNeef, Sara Herndon | |
| West Iron County High School | Patti Steinberg |
| Megan Angeli, Travis Tomasoski, Sara Irish, Jacob Stuck | |
| Westwood High School | Kevin Kruger |
| Meghan Racine, Stephen Hooper, Brett Garrett, Taylor Blewett | |