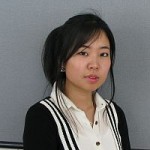 By Kara Sokol, integrated marketing and communication specialist/editor
Holistic healers have long touted the benefits of oak leaves as a treatment for gastrointestinal ailments, an anti-inflammatory for insect bites, and more. Now, Michigan Tech student Nari Kang has discovered a potentially groundbreaking new use: natural food preservation.
"This idea has been in my head since high school, after seeing a news story about the chemicals in food," Kang says. "I wondered–what did people do before there were refrigerators?"
Kang, a second-year bioinformatics major from South Korea, devised the hypothesis for her research after hearing Korean folk culture stories about the preservative qualities of oak leaves.
"Theoretically, there are several reasons why oak leaves would make good food preservatives," Kang explains. "They contain a chemical component that acts as a natural preservative, they have a drying agent that tends to remove moisture, and they're large, which means they can be easily wrapped around food."
The experiment utilized the powder of crushed oak leaves harvested during the peak of summer and sun- or oven-dried. Terpene trilactones–molecules associated with positive health effects, including increased blood circulation to the brain–were extracted from the leaves and combined with various concentrations of purified methanol solution.
Kang then applied the extracts to a fungus often found in many of our kitchens–Penicillium chrysogenum, or common bread mold. After a week in incubation, the results were incredible. Test plates treated with the leaf extract showed drastically reduced rates of mold growth, proving that the extract demonstrates considerable antifungal activity.
"I was very excited," Kang says. "This really interests me."
Kang's research interests others as well. Her presentation at Tech's Undergraduate Expo on April 16 was incredibly well received, inspiring discussions about potential applications in major food industries and winning first place honors in the Undergraduate Research division.
"I never expected to win," Kang says. "But it felt awesome!"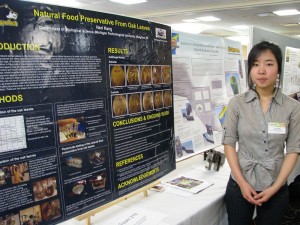 Kang's future plans include additional research, including testing to make sure the extract isn't harmful to the body and studying molecular activity to improve antifungal integrity and longevity.
But her first order of business this summer will be to write a proposal for additional funding.
"It can be hard to find the funds for undergraduate student research," Kang explains.
For now, she considers herself lucky to be able to tackle the research that she's most interested in. "It's very exciting to be able to work on projects like this as an undergraduate."
She singles out Assistant Professor Ramakrishna Wusirika for his guidance and encouragement. "He showed me how to work in the lab."