Winter Carnival week was officially kicked off Saturday night, as Anna Uhl was crowned queen. The senior biological sciences major was sponsored by Sigma Phi Epsilon and Kukkakaupa, and her talent was "My Size Salsa Dancing Barbie."
Second place went to Jessica Thoresen, whose talent was "Legends of Azeroth" jazz dance and sponsors were First Year Experience and Celebrations Bridal & Formal Wear. She is second-year biological sciences major.
Third place went to Brittany Wood, who was sponsored by the Women's Soccer Club and Xpressions. For her talent, the second-year marketing and sports and fitness management major read "A Letter of Desperation: Dear Brett Favre."
Uhl will preside over the Carnival activities, including the all-nighter Wednesday night and the ride on the Zamboni at this weekend's hockey games.
Article in Houghton Daily Mining Gazette
Meet Michigan Tech's 2010 Winter Carnival Queen Candidates. Presented with thanks to Brassard Media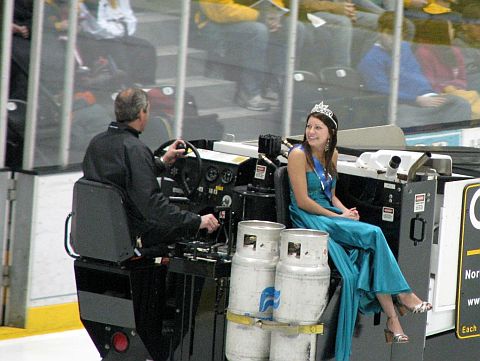 Video made from the audience: Salsa Barbie performance at MTU's Winter Carnival Queen Coronation. Performance by Aldo Vacaflores and Anna Uhl