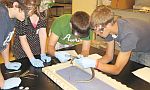 The twenty-first annual Department of Biological Sciences Bioathlon for high school biology students was held on Wednesday, May 5, at Michigan Technological University. Simultaneously, a workshop was held for the accompanying biology teachers. The Bioathlon serves as a means to stimulate interest and problem-solving in biology among our area youth. Teams from 16 Upper Peninsula Michigan high schools participated.
---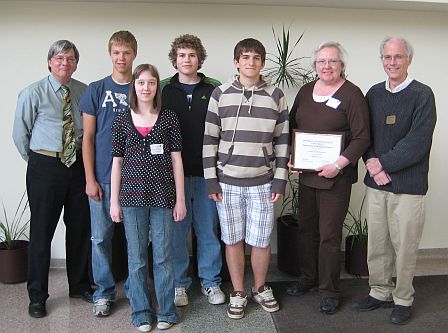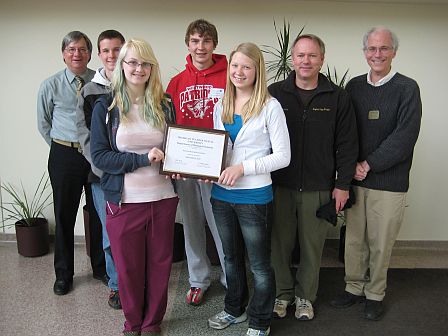 (No Photo Available)
The team winning THIRD PLACE was L'Anse High School from L'Anse. Coach: Betty Cangemi
---
Each team was composed of four students who have not had formal class work in biology beyond the traditional sophomore high school general biology course. All teams tackled the same four problems:
Dissection, designed by Ronald Gratz, Ph.D.
Protein Concentrations Using a Colorimetric Assay! designed by Elizabeth Hager, Ph.D.
Field identification, designed by Meagan Harless, Ph.D. Candidate
Blood Diagnosis, designed by Rita Chapel, Clinical Lab Science Undergraduate
Through these exercises, students demonstrated organizational skills, knowledge of facts and concepts, laboratory skills and creativity.
Each member of the first-place team received a $200 U.S. Savings Bond; the second-place team received a $100 U.S. Savings Bond; and the third-place team received a $50 U.S. Savings Bond. A plaque was awarded to the first-, second- and third-place teams. Each student participating in the competition also received a certificate of participation and a Bio-Athlon T-shirt.
Teacher activities included:
"Soils: The Web Soil Survey + Testing in the Field",led by Chris Hohnholt, Director of Recruiting and Development, School of Forest Resources
Environmental Sciences and "Coevolution of Plants and Pollinators", led by Stacy Cotey, Academic Advisor Department of Biological Sciences
Funding was provided by MTU Admissions, the Department of Biological Sciences, the Michigan Tech Fund, and MTU Alumni Mark Cowan, M.D., Robert C. and Kathryn DellAngelo, M.D., Olive Kimball, D.Ed., Ph.D. and Sandra Lewin.
---
Participating Schools and Teachers
A.D. Johnston (Bessemer)
Teacher: David Rowe
Students: Megan Ahnen, Haley Jacobson, Danny Trudgeon, Paige Berwald
Baraga
Teacher: Ms. Cara DeForge
Students: Savannah Dakota, Jana Parkila, Gabby Mackey, Dylan Hemmila
Calumet
Teacher: Jen Peters
Students: Jaikob Djerf, Nicole Bonenfant, Kari Oja, Nichole Wilson
Chassell
Teacher: Mary Markham
Students: Kathryn Heikkila, Brianna Johnson, Nicole Panke, Jared Jarvi
Dollar Bay
Teacher: Sara Moilanen
Students: Megan Ahnen, Haley Jacobson, Danny Trudgeon, Paige Berwald
Forest Park (Crystal Falls)
Teacher: Jen Toivonen
Students: Mindy DeNell, Kirston Kille, Jke Divine, David
Gladstone
Teacher: Kathy Becker
Students: Ashley Beaudry, Katie Becker, Kathryn Capodilupo, Taylor Seeley
Hancock
Teacher: Kristin Schourek
Students: Stephanie Dunstan, Devin Kero, Joel Maki, Elliot Meese
Houghton
Teacher: Lauri Davis
Students: Kyle Sorensen, Angela Becia, Alex Monette, Maria Pelto
Jeffers (Painesdale)
Teacher: Cindy Ruotsi
Students: Kayla Destrampe, Alyssa Taavola, Kendra Maki, Amy Puuri
Lake Linden
Teacher: Rejean Kangas
Students: Kyleigh Franklin, Nick Monette, Casey Hainault, Taylor Ambuehl
L'Anse
Teacher: Betty Cangemi
Students: Alex VanWagner, John Smith, Dillon Velmer, Carter Hendricks
L.L.Wright (Ironwood)
Teacher: Stephanie Sellers Mazzon
Students: Brad Torni, Ellen Hagstrom, Aleah Maki, Maighlin Kolesar
Negaunee
Teacher: Sherri Holmgren
Students: Emily Oja, Sarah Tresedder, Ben Rebertus, Mariah Savolainen
West Iron County (Iron River)
Teacher: Joel VanLanen
Students:Shannon Penkivech, Joel Van Lanen Jr., Sean Gustafson, and Jason Smith
Westwood (Ishpeming)
Teacher: Kevin Kruger
Students: Danielle Pierre-Trettel, Morgan Rintamaki, Nick Benda, Matt