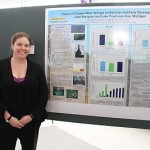 The Center for Water and Society World Water Day poster competition was held Tuesday, March 22. Awards were made in two categories: Original Research (presentation of thesis or project research) and Coursework/Informational (presentation of coursework or literature-based research). Following are the awards and recipients.
Original Research Category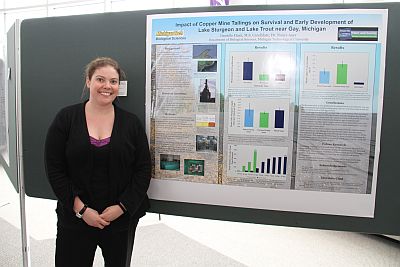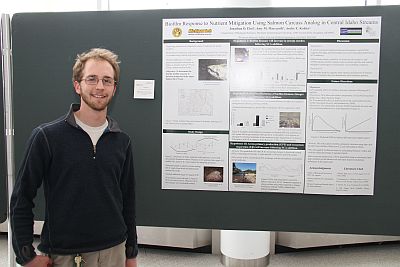 ---
Graduate Student Government Presents Research Symposium
March 3-4, 2011
Michigan Tech News story:
Showing their stuff: Tech hosts annual student research colloquium from Daily Mining Gazette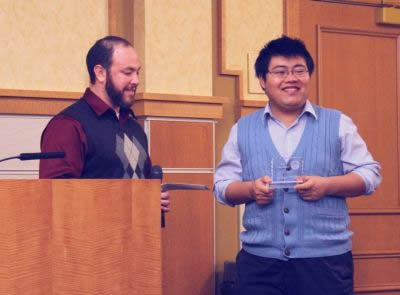 ---
The Ecosystem Science Center and the Biotechnology Research Center announced award recipients of the Seventh Annual ESC/BRC Student Research Forum, held March 25.
For the graduate students, two Grand Prize Awards, six Merit Awards and two Honorable Mention Awards were presented. They were selected from among the 42 posters and abstracts submitted by graduate students conducting research related to ecology, the environment and biotechnology at Michigan Tech. New this year was a separate undergraduate research division with 9 submissions. For the undergraduate students, each center awarded a grand prize winner.
Ecosystem Science Center Graduate Research
$100 Merit Awards:
Meagan L. Harless (Biological Sciences) for "Sublethal Effects of Road Salt (NaCl) Exposure on the Survival and Growth of Larval Wood Frogs (Lithobates sylvatica) "; Advisor: Casey Huckins.
Biotechnology Research Center
$100 Merit Awards:
Surendar Reddy Dhadi (Biological Sciences) for "Functional Analysis of Bidirectional Promoters in Rice", Advisor: Ramakrishna Wusirika