From Tech Alum Newsletter, June 20, 2011 Vol. 17, No. 22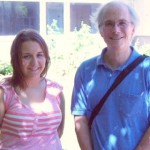 Faith Lambert, a fifth-year biochemistry major from Dryden, Michigan, is researching a "metabolic disorder, phenylketonuria, one of the most common inherited genetic disorders that doesn't allow patients to break down the essential amino acid phenylalanine" she says.
And phenylalanine can be harmful, I learned. Contained in foods with protein, if not broken down, it can severely damage the brain when levels in the body get too high in patients.
"We are treating a model of the disorder with competitive amino acids that will block phenylalanine from getting into the brain, but not cause toxic effects to the patient", she says. "This is a completely new way of considering treatment for these patients."
Phenylketonuria could be treated with a pill, but it won't be cured, she says.
Lambert is working with Biology PhD student Kara Vogel and Professor and Chair of Biological Sciences Mike Gibson.
"Faith is applying a very novel dietary approach in the animal model that has real potential for clinical use in patients," Gibson said. "The work Faith and Kara are carrying out will form the basis of a new NIH grant, and they make a great team working together."
Vogel extolled Lambert's virtues.
"Having reliable students with passion and dedication increases the pleasure and privilege of, and is the key to successful research," she says. "Faith is the first student I have ever trained to work in science, and she will always be special to me."
Lambert's interest in biology is strong enough for her to pursue a teaching certificate and bring her knowledge to high school classrooms.
"Then, I'd like to go back to grad school, too." she says.