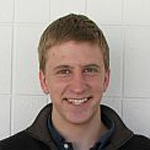 Sophomore Jared Cregg (Biomedical Engineering), of Eden Prairie, Minn., has been named a 2008 Goldwater Scholar. The scholarship provides $7,500 for tuition, fees, books and room and board.
Under the direction of Assistant Professor Ryan Gilbert (Biomedical Engineering), Cregg is conducting research on the development of novel, tissue-engineered peripheral nerve grafts. Currently, nerve material is harvested from other locations within the body to repair damaged peripheral nerve. Thus, developing synthetic replacements is necessary. Cregg has invented a polymer coating technique that allows for the construction of three-dimensional conduits that direct axonal outgrowth. He has presented his work at the fall 2007 Biomedical Engineering Society meeting.
"Being named a two-year Goldwater Scholar is a great honor; an honor that can be celebrated not only by me, but by my peers and faculty as well," said Cregg. "It demonstrates Michigan Tech's strong capacity for undergraduate research in science, math and engineering."
"Jared entered my lab with no research experience. However, he worked very hard over the summer months to learn his research area. As a sophomore, he is conducting independent research at a graduate-student level," said Gilbert. "Jared has shown that with some effort and hard work, amazing things can happen in the laboratory. He is an exceptional individual."
The Goldwater scholarship is one of the most competitive awards an American undergraduate in science or engineering can receive. This year, 321 scholars were named from a field of 1,035 nominations. Only 52 of the scholars are majoring in engineering. The Goldwater Foundation is a federally endowed agency that honors the memory of Senator Barry M. Goldwater.
Cregg is also a member of Michigan Tech's cross-country ski team and plays violin in the Keweenaw Symphony Orchestra.