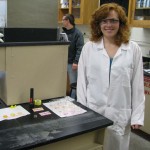 Story by John Gagnon, promotional writer
How are you going to keep them down on the farm after they've seen Houghton?
You're not, if you're trying to have Beatrice Burgess, who is 20, help take care of the dairy cattle on the family farm in Brown City.
Her father wanted her to help him out this summer, as she has in the past. She's a good hand and has been doing farm work "pretty much since I could walk." But, to her father's disappointment, Burgess, a junior, instead chose to spend the summer doing research in the biomedical engineering department's polymeric biomaterials lab.
"This is a great job," she says. "I thought it would help me." Burgess is one of 25 undergraduates working on biomedical engineering research.
She is helping Assistant Professor Megan Frost on a project to develop biomedical devices constructed from polymeric materials (such as tubing, implantable sensors and catheters), which the body tends to reject.
Burgess loves science, especially chemistry, and engineering, especially building things. Biomed is a blend of both, plus an opportunity for service. "I'm really interested in helping people do something that's going to make a difference," she says.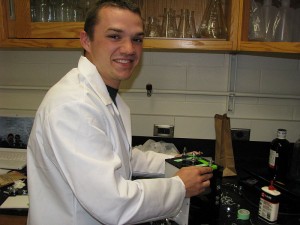 While in high school, she checked out three other colleges: Purdue, Michigan, and Michigan State, but chose Tech. "This campus just had a feel about it. It felt like home. I haven't run into anybody I didn't like, which is amazing."
She brings the work ethic of a woman with a hoe to her college life. She works 30 hours a week in the lab. She'll cut down but continue the work in the fall, when she will carry 16 credits and be a tutor in the Chemistry Learning Center and a grader in the math department. "I like to be busy."
That's the essence of farm work. The worst thing about farming? "Everything that can go wrong will go wrong." The worst thing about college? There's no downside, except for maybe some uncertainty. "There's so many things I want to get into," she says. "I have to decide."
Across the room from Burgess is another student researcher: Genny Gierke, age 18, of Chassell, daughter of Associate Professor John Gierke (GMES).
She attended Houghton High School and is an incoming first-year student. Her employment with Frost has usurped previous summer jobs at a local flower shop and in the Summer Youth Program.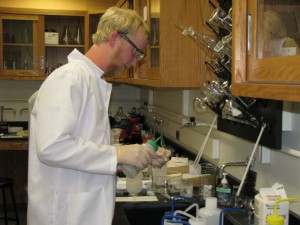 Gierke adds dyes to plastic to create compounds that are sensitive to light; the more light they're exposed to, the more nitric oxide they release; the more nitric oxide, the better the biocompatibility. One result: colorful discs that filter the light to control the release of the gas. About the size of a quarter, they are shades of yellow, red and blue. Does she enjoy the work? "Oh, yeah. Look how pretty those are."
She keeps a lab book filled with notations and neat drawings and diagrams. Getting paid for work she so thoroughly enjoys "is definitely beyond me," she says.
She aspires to be an orthodontist—"as of right now, but that's 10 more years." She must be one of a few. "I've always enjoyed going to the dentist. There's something I like about it. Well, then, I must be a dentist." She talks about bringing "humanity" to the work. "You can help people."
Frost has high praise for Gierke and Burgess. "They are outstanding, very smart and very enthusiastic."
Down the hall from these two researchers, other students engage in conversation and exemplify enterprise. Their bustle contrasts to the doldrums in some parts of campus.
"I just love the summer," says chair Michael Neuman, "because there's so much activity here."