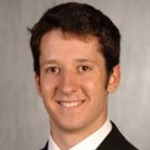 Story by Jennifer Donovan, director of public relations
A defenseman on Michigan Tech's hockey team, Eli Vlaisavljevich has twice been named to the Western Collegiate Hockey Association Academic Team. He made the 4.0 GPA Dean's List every semester and received the John MacInnes Slide Rule Award for scholastic achievement in 2008. He comes from Shoreview, Minn.
Vlaisavljevich has conducted research with Rupak Rajachar, an assistant professor of biomedical engineering, under a Summer Undergraduate Research Fellowship. "He has been one of the many positive influences I have had at Michigan Tech," Vlaisavljevich says of Rajachar. "He taught me a lot about his own research, the research field in general and the different opportunities that are available for my future."
Vlaisavljevich was invited to give a platform research presentation at the 2008 Biomedical Engineering Society Conference. He has been accepted to present research at the 2009 Design of Medical Devices Conference this month and the ASME Bioengineering conference in June.
Academically, Michigan Tech is batting 1,000. All three of the University's nominees for prestigious Goldwater Scholarships this year are winners of the 2009 awards.
John Mark Gubatan, Hansen Nordsiek and Eli Vlaisavljevich, all third-year students, were named Goldwater Scholars by the Barry M. Goldwater Scholarship and Excellence in Education Foundation. Gubatan is a biochemistry and molecular biology major with a double minor in French and Spanish. Nordsiek is majoring in physics, and Vlaisavljevich is a biomedical engineering major.
Although Michigan Tech has produced a number of Goldwater Scholars in previous years, this is the first time the University has had more than one winner in any given year.
Goldwater scholarships–established by Congress to honor the late Senator Barry M. Goldwater–are based on academic merit, research experience and an intent to pursue a career in science, engineering or mathematics. Colleges and universities nominate students for the scholarships, which cover up to $7,500 in tuition and fees.
"The Goldwater is one of the more prestigious scholarships you can win as an undergraduate in science, engineering or math," said Will Cantrell, associate professor of physics and Michigan Tech faculty representative for the program. "It is highly competitive."
The Goldwater Scholarship and Excellence in Education Foundation received 1,079 nominations this year and awarded 278 scholarships. Other winners in Michigan include four students at the University of Michigan-Ann Arbor, four at Hope College and three at Michigan State University.
"Goldwater Scholars usually go on to do very well at getting NSF, NASA, DoE and other graduate fellowships," Cantrell noted.
From Tech Today, April 9, 2009 "Three Tech Students Named Goldwater Scholars"