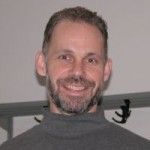 • Osteoporosis and Bears from Sci Central News
• Bear Bones or Hormones
Associate Professor Seth Donahue's (Biomedical Engineering) latest work on bone formation and decay in bears has been featured on the Discovery, SciCentral and WZZM13 Grand Rapids websites. Donahue investigates why bears don't develop osteoporosis, despite sleeping away most of the winter. He has synthesized the hormone he believes is responsible, which could have implications for treating human osteoporosis.
Bears emerge from hibernation with bones as strong as two-by-fours. Why bears are able to dodge the osteoporosis bullet has been a puzzle. Now, a Michigan Tech scientist may have solved the mystery.