HISSEMA- Applications due May 15, 2013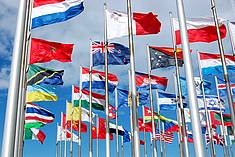 The Hannover International Summer School of Economics and Management (HISSEMA) is in its eleventh year of operation taking place from July 8th to August 23th. It is conducted completely in English. Up to now, over 200 US-Students have participated in the HISSEMA. Hannover is a mid-size northern German town of 500,000 inhabitants, not far from Berlin and Hamburg. It is known to be a modern, green, safe secure city. Many company headquarters are located here and the world biggest IT-Fair take place in Hannover. Leibniz University Hannover has over 22.000 students.
Facts
When: July 8th — August 23th, 2013
Where: At the Business and Economics department of the Leibniz University of Hannover.
Program: HISSEMA offers courses in "Business Administration and International Finance", in "German Economy" and in "German Culture, Business and Language".
Accommodation: Students will stay in student dormitories close to the Faculty Business and Economics. Accomodation is in single rooms with shared bathrooms and kitchens.
Costs in Hannover: Accommodation for six weeks: 400€ Public transport and immat. fee: 130€ Compulsory Excursions: 100€ Additional fees for optional excursions
Credits: All courses are worth 4 Creditpoints (ETCS). However, acknowledgement of credit hours depends on regulations at your home university.
Requirements: Students admitted to this program must be at least in their second year of university or college (sophomores) and be majoring in the fields of Business or Economics.
Trips: A trip to Munich (the city of the "Oktoberfest") as well as other sightseeing trips in and around Hannover are offered.
Course Description
Business Administration and International Finance: This course will introduce students to the field of international finance, with special focus placed on emerging financial markets. Topics will include: Foreign Exchange Risk – Hedging– Country Risk Analysis – Financial Crisis – Lending Institutions in EM –Banking in EM.
The German Economy: Development, Institution and Regulations: This course will give a description of the performance of the German economy. Areas covered include historical background, the economic system and its sectors, the German labor market, constitutional elements of the social security system, Germany's integration into the European Union and the World Economy.
German Culture, Business and Language: The course will provide basic German language skills as well as insights in German culture and history. Additionally, there will be four excursions to leading German companies and institutions in order to give insights into German business culture.
Visit the HISSEMA Homepage:
http://www2.wiwi.uni-hannover.de/hissema.html

Further contact Information:
At Leibniz Universität Hannover:
Malte Sandner
guest@wiwi.uni-hannover.de