Economics Professor Tom Merz is currently on sabbatical as a Research Fellow in the School of Economics and Finance at Curtin University of Technology in Perth, Western Australia.
Tom and his wife, Mimi, arrived in Australia in early July and will return to Houghton in January. This is Tom's fifth visit to Australia. Tom presented a paper at and participates in a weekly seminar series. He was also the guest speaker at the Executive Dean's Seminar Series. In early August, he presented a paper at the University of Western Australia and will make a presentation at Edith Cowan University in late September.
On August 24, Tom made his debut on Australian radio discussing MTU's three Guinness record-breaking feats. On September 1, Mimi and Tom participated in Western Australia's "Giant Walk," an attempt to set a Guinness record for the most people simultaneously walking a given distance.
Tom gives 2 one-hour lectures weekly in an economics class with an enrollment of nearly 400 students. Once a week he lectures to 90 students enrolled in the Western Australian School of Mines.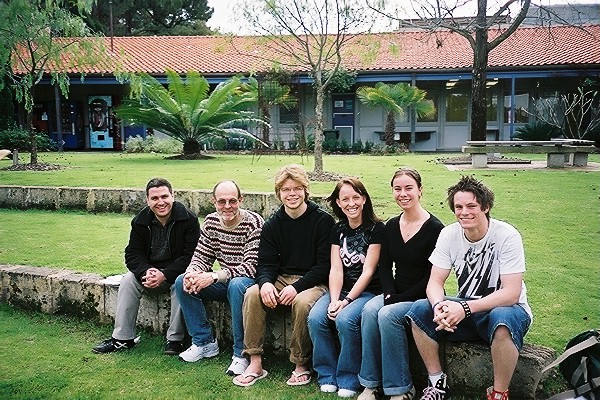 In the photo above, Tom is seated second from the left. Seated at his right is Rami Rawashdeh, a PhD student from Jordan, who assists Tom in the classroom. Rami will be cooking Mimi and Tom a Jordanian dinner! Seated to Tom's left are undergraduate mining students Jason Tyler, Sharon Ackermann, Kara O'Dwyer and Ashley Howard.
Located near the Indian Ocean, Perth has a Mediterranean climate (no snow!) and Curtin University has an enrollment of 31,000, 11,000 of whom are international students and 15,000 are enrolled in the School of Business. Students from the SBE and across the Michigan Tech campus have previously studied at Curtin.