Sophomore SherAaron Hurt, a business administration major, has been selected to be Michigan Tech's participant in the General Motors Sullivan Fellowship Program.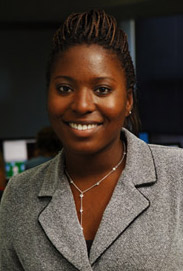 The Sullivan Fellowship is based on the Global Sullivan Principles of Corporate Social Responsibility. Developed by the Reverend Leon Sullivan, they are a set of human rights principles to be recognized by business and industry. They include providing workers a living wage and a safe workplace, refusing to pay bribes and honoring intellectual property.
Hurt was selected based on her grade point average, campus and community involvement, and ability to be an effective ambassador for the Sullivan Principles. She will receive an internship with GM, where she will evaluate her unit's understanding and implementation of the Sullivan Principles. The fellowship also includes a $5,000 scholarship for 2007-08.
Finally, Hurt will be working with Enterprise program director Mary Raber to implement training and workshops on the Sullivan Principles on campus and in the community.
"Reverend Sullivan has been in my church before and was a wonderful speaker and a friend of my pastor's," Hurt said. "Spiritually, his foundation is my foundation, so being able to talk about this great man and his ideas is a special privilege."
After her internship at GM, in August, she returns to Michigan Tech to continue to promote the Sullivan Principles.
"I hope to speak at orientation and make presentations at local high schools," she said. "I want to make sure I reach as many people as possible, just as Reverend Sullivan did."
The fellowship is sponsored by GM and the United Negro College Fund. For more information on the Sullivan Principles, visit