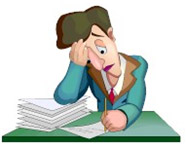 It is a free service to students and low-income members of the community to prepare individual income tax forms. The IRS sponsors VITA programs on University campuses all over the U.S.
At MTU, School of Business students, who have completed an IRS training course, prepare individual tax returns. These students are donating their time and talent.
No appointment is necessary.
Bring your W-2's, form 1099's, 1098T's, etc, to one of our sessions. Also bring a copy of last year's tax return, if possible.
Up until April 15th
| | |
| --- | --- |
| Mondays | 11:00 – 2:00 pm |
| Tuesdays | 11:00 – 12:00 noon & 4:00 – 6:00pm |
| Wednesday | 3:00 – 6:00 pm |
| Thursdays | 11:00 – 12:00 noon |
MTU's Academic Office Building, Room G010A
For more information contact Joel Tuoriniemi, jctuorin@mtu.edu, 487-1877 or Anne Warrington, acwarrin@mtu.edu, 487-1733