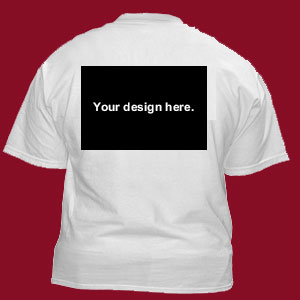 We want YOU to design the official t-shirt for the First Annual Fall Picnic. It's a CONTEST and the prize for the winning design is a $50 GIFT CERTIFICATE to the Campus Bookstore. The picnic will take place on Friday, October 16, from 5 – 8 pm, next to the School of Business and Economics. We'll have food, drinks, games, and prizes. Mark your calendars.
Let your imagination soar, your creativity go wild, and enter the t-shirt design contest. To enter, please send us your design for the back of the t-shirt.
Please send your design to Lynn at lmczarne@mtu.edu. The contest deadline is MONDAY, OCTOBER 5, 9 AM. The entered designs will be judged by the Dean's Student Advisory Council.
Design Specifications
It's best if you create your design in Photoshop or Illustrator or another professional design program. If you use another means to make your design, you must be prepared to provide print-ready files of the design should you win. But your submission will be a PDF.
Your design should contain a maximum of four (4) colors (plus the shirt color).
Your design can only be on the BACK of the shirt, and must fit within a printable area that is a 10" wide x 13" high rectangular area.
Your submission should be a PDF file no larger than 5MB. If you win we will ask you for the high resolution files.
Question? Lynn at lmczarne@mtu.edu