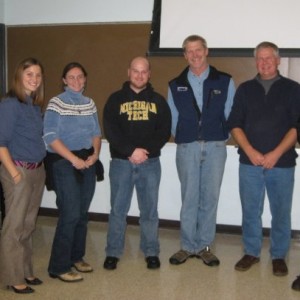 Owners of the Keweenaw Brewing Company, a microbrewery that resides in downtown Houghton,  Dick Gray and Paul Boissevain talked about their business plan, strategy, and goals with about 30 students and community members  during a question and answer session last week.
Gray and Boissevain discussed their motivation behind starting a brewery and the challenges they faced. "We wanted to drink good beer and we didn't expect to grow as fast as we have. Now our challenges lie in distribution and we don't have a written plan for how to get where we want to be, we're taking it day by day." said Boissevain.
This event was sponsored by the Entrepreneurs Club of Michigan Tech.