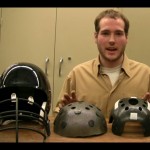 Go to the Inventor's Digest website to vote for the Enhanced Bio-Med Helmet.
It takes a lot of people with different specialties to make a big idea come to life. According to Associate Professor of Economics Paul Nelson, "The enterprise program and many of the engineering senior design teams are multidisciplinary. Because business plans, project management, and financial analysis are almost always a part of these teams' work, School of Business and Economics  students have been involved from the beginning on an ad hoc basis."
Dr. Nelson is an advisor for one of these groups. His entrepreneurial team's big idea: the Enhanced Bio-Med Helmet. The EBM Helmet Team's Marketing and Financial Coordinator, Eric Tangko, described the invention, "We have decided to come up with a helmet technology that will give the user protection of both direct impact and rotational impact. We want to make sure that our helmet will reduce the impact of possible concussions. This is what EBM Helmet was based upon." Recently, physicians and medical staff have become increasingly concerned with the damage concussions cause to the brains of athletes involved in high speed collisions.
Why a Helmet?
The EBM Helmet Team based their project on this research. "2,000,000 cases of head injuries happen each year. From these cases, 300,000 of them lead to concussions," said Tangko. "So far, many people believe that their helmet will protect them from any type of head injuries. However, research has proven that it is not true. In fact, current helmets only protect their users from direct impact."
The team has become a finalist in the March Madness Expo sponsored by the National Inventors and Innovators Alliance's (NCIIA). The online competition, required the team to make a short YouTube video, describing their invention. They will be competing against The University of California (Berkeley), Northwestern, Brown, Rensselaer, Rice, Cornell, and seven other top schools.  In order to win the competition, the team needs your help! Go to the Inventor's Digest website to vote for their invention as the best in the group.
The team is also included in a selection of competitors that will show off their inventions in three weeks at a national exhibition in San Francisco.
We will see increased involvement of business majors in these types of projects in the future. According to Nelson, "The School of Business and Economics is formalizing the involvement of business students in these teams by introducing BA4991-4992, Business Development I,II (Business Develoment Experiences) in the curriculum for students entering this fall.  These courses will equip students to develop business plans, foster innovation, and involve participation in multidisciplinary Enterprise or senior design projects across the Michigan Tech campus."