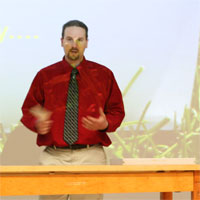 Dustin Denkin walked away with $4,100 in prize money and consulting services after winning first place at Michigan Tech's First Annual Business Plan Competition. Denkin's company, Suburb Solar, created to provide pre-assembled modular solar electric systems to households, was awarded the prize after spending four months preparing a business plan and presenting his plan to a panel of judges on April 17th .
Denkin, an MBA student scheduled to graduate in December of 2010, said the idea for his solar panel business came from his own personal experience. "I wanted to set up a solar system for my house and I found out that it would either take a great deal of my time or a great deal of my money," said Denkins. "So I wanted to come up with a more affordable, easier way to connect homes to solar power." Suburb Solar's product is still in the beta-testing stage, but will provide up to 5% of a house's energy with just a single unit at 1/10 the cost of current systems. The next step is to finish the beta-testing and begin quality testing of the product.
As the winner of the competition, Denkins received $4,100 worth of money and consulting services from local area businesses to help get Subrub Solar off the ground.  "The money and services will help immensely in moving Suburb Solar forward," said Denkin.
Three teams presented their plans to a panel of judges. Kevin and Cynthia Hodur came in second place, with a plan for their business, Keweenaw Archive, dealing with writing instruments, notebooks, and journals. In third, was Brent Halonen and Dan Eskola and their company NCO Cookies, a business with a niche market for a better cookie product.
Ensuring a very high standard, business plan reviewers included Dr. James Baker from Michigan Tech, Mr. Phil Musser, Director of Keweenaw Economic Development Alliance, David Brule, Jr. of Northstar Industries, Dick Hennesy, retired banker from J.P. Morgan Chase, and Jim Bottomley, COO of GS Engineering.
Bob Mark, co-director of the Institute of Global Learning and Entrepreneurship added, "This is the first year Michigan Tech has had a Business Plan Competition but the quality of the business plans submitted was outstanding.  We look forward to additional competition next year! Special thanks to Jonathon Leinonen, Roger Woods and Anne Warrington for conducting the training sessions for the competitors."
Thank you to the students, judges, the Institute of Global Learning and Entrepreneurship, the School of Business and Economics and prize contributors including: May Waddell, From Vario, Mechlin, & Tomasi, PLLC, Joe Daavettila, CPA, The Marketing Department, Delta Business Solutions, and the MTEC SmartZone for making this event a success!