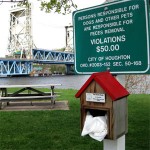 Patricia Henderson didn't necessarily plan to be the head of a firm. "I thought I would build up sales of some product and sell the company," she said. However, Cygany Inc. continued to grow and Henderson is still around.
Whether you call it "doodey", "number two", or "the stinky," Cygany continues to pick up sales, while customers pick up poop! That's right, Henderson's product: the Poopy Pickup pet waste-removal bags are now available in 17,000 stores nation-wide and used in approximately 1000 city park systems including here in Houghton, Michigan. Henderson's products can be ordered with storage units to house plenty of future Poopy Pickup bags, making them perfect for parks which wish to avoid becoming fecal mine fields. While Henderson's customers pick up the dog's "doo-doo", entrepreneur club students here at Tech were able to pick up some lessons from this very successful business owner.
"It's actually been harder to sustain the growth periods than it was to get started," she said about working with a growing business. One might think that growth means a large staff and plenty of space for production facilities, but Henderson has taken a different approach. She says that by outsourcing some jobs and partnering with manufacturers and distributors, she has found more success than if she did those tasks internally. "I make their success dependent on my success," said Henderson.
One also might think that selling to 17,000 stores would require a huge sales staff, but that's not true either. "The biggest mistake I made when I started out was that I hired other people to do the sales for me," said Henderson. "We only had $1400 of cumulative sales our first period." Henderson quickly realized that she would do better speaking for her own product. "A product is only not sell-able if you cannot sell it yourself. The most important thing about a company is sales."
Cygany Inc. continues to grow. Henderson has recently been tapping into the convenience store market, by demoing her product in trade shows. "Trade shows are really expensive, but they're probably the best way to break into a new market," she said.
Other than that, Henderson chalks success in the business world up to internal desire. "People are either born entrepreneurs or they're not," she said, stressing the importance of problem-solving abilities. "That's the definition of an entrepreneur: a person who will figure it out somehow."
She has another thing going for her. We love our four-legged friends and they will always be pooping. And we'll always have to pick it up.