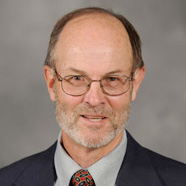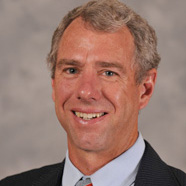 The School of Business and Economics would like to extend a warm congratulations to Associate Dean, Tom Merz, and Professor of Economics, Mark Roberts, on their recent accomplishments of 30 and 25 years of service at the University, respectively.
To honor both Dr. Merz and Dr. Roberts, faculty and staff have contributed the following memories and thoughts about these outstanding members of the School of Business and Economics.
"As the 'junior' economist on the faculty, I would just like to thank both of these economists for their advice, patience, and kindness as I made a rather major transition from the People's Republic of Boulder to the Arctic Circle. Welcome to Houghton, here is your snow blower, it has a headlight for the times you have to drive it to work in the middle of the night, such as 9 a.m. in January."

"When I was on my campus interview, Tom took me to the airport to catch my flight home. I was worried about getting to the airport an hour before my flight's departure, and the clock on the dash of his truck showed that we were cutting it too close. But, Tom didn't seem to be in any hurry, chatting about this, that, and the other – his "war stories" from his years as Mayor of Houghton. When he finally noticed that I was getting anxious, he casually remarked that the clock has been broken for years – but it has the correct time twice a day. That was my introduction to the Keweenaw lifestyle!"

"Mark's commitment to the School is unquestioned. His participation in faculty and student recruitment go above and beyond what is expected. It is great to work with someone who is so involved in his work and his community."

"Tom is known to, on an occasional winter day, wonder out loud, "When are we going to be playing softball."

"In recent years, I have begun to look forward to Tom taking on the role of emcee at a number of  School of Business and Economics gatherings. These often include humorous stories and sometimes embarrassing props……"

"Mark has worked very diligently with master students in Economics over the years – some of the master's theses his students produced could have been PhD dissertations.  As his office neighbor for over ten years, I know how available he always is to help students, including those from the very large classes he always teaches in Engineering Economics."

"I remember Tom selling me on Houghton many years ago when I interviewed for a position in the School of Business and Economics – he has always been a great booster for both the School and the community, as evidenced by his long tenure as mayor of the Houghton."
The complete list of campus-wide honorees is available in Tech Today.