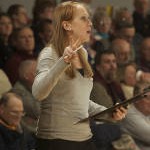 Kim Cameron (School of Business and Economics alumna 05′) has been promoted to Michigan Tech's head women's basketball coach position,  announced today by athletic director Suzanne Sanregret. Cameron, who spent the last five years as assistant coach helping the Huskies to 119 wins and two NCAA Elite Eight appearances, becomes the eighth head coach in the program's 35-year history.
"I am thrilled for the opportunity to lead a program that I have been a part of for nine years," said Cameron. "I believe in this program and the foundation in was built on. I'm looking forward to continuing the great tradition of Michigan Tech women's basketball."
Cameron has coordinated the program's recruiting, scouting and travel since she was named assistant coach prior to the 2005-06 season. Since then, the Huskies have won 76.8 percent of their games, claimed three Great Lakes Intercollegiate Athletic Conference North Division titles, advanced to the NCAA Tournament four times and cut down the nets for two NCAA Midwest Regional Championships.
"Kim has been a vital part of our success, and I have full confidence entrusting her with the program," said Sanregret. "We've had 22 straight winning seasons in women's basketball, and we wanted someone who is committed to the team's time-tested values of discipline, hard work and academic success. I have no doubts Kim will continue the program in that direction."
Cameron graduated from Michigan Tech in 2005 with a bachelor's degree in business administration. The Alpena, Mich., native earned four letters as a player for the Huskies from 2001-05, helping the squad to a 71-42 record in her four years and a trip to the NCAA Tournament as a senior.
"We're really excited that Kim has agreed to take on this key responsibility," said Michigan Tech president Glenn Mroz. "She's been performing at a very high level as assistant coach, and she has experience in recruiting the best players in the league. The women on the team have a lot of respect for her and her coaching abilities. Most importantly, she knows how important academic achievement is to the players, parents and campus."
Cameron begins her new duties with the women's basketball program immediately. A search will be conducted for the now-vacant assistant coach position.