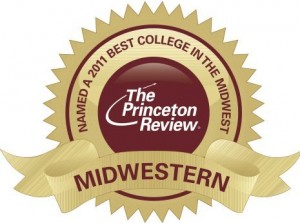 The University garnered "Best in the Midwest" honors again in the Princeton Review's "The Best 373 Colleges, 2011 Edition."
Only about 15 percent of America's 2,500 four-year colleges and two Canadian colleges are profiled in the book, according to the Princeton Review. Michigan Tech was among the 152 Midwest schools singled out.
The guidebook contains detailed profiles of the colleges, with rating scores for all schools in eight categories, and includes an extensive "student says" section for each school reviewed.
"It is no surprise that our students have good things to say about their Michigan Tech experience," says Les Cook, vice president for student affairs. "Many of them come here because of the excellent reputation of our faculty, and they stay because of that and the adventurous spirit of those they connect with, the support of our staff and the community."
"We commend Michigan Tech for its outstanding academics, which is the primary criteria for our selection of schools for the book," says Robert Franek, Princeton Review's senior vice president of publishing. "We also take into account what students at the schools reported to us about their campus experiences on our 80-question student survey for this project."
Student responses from the most recent survey mentioned the "nationally ranked" undergraduate and graduate engineering programs, the "strong" forestry and environmental science school that "is growing significantly," and the School of Business and Economics that "is gaining momentum."
One student also commented: "Everyone in the industry I have talked to recruits Tech graduates because of their work ethics and personalities." Tech's broomball tradition got a mention, too. "A majority of people get involved with it because it is such a fun winter sport."
This article was written by Dennis Walikainen, senior editor in University Marketing and Communications, it is also featured in Michigan Tech News.