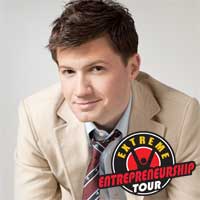 The School of Business and Economics, the Entrepreneurs Club, and the Institute for Leadership and Innovation are hosting the Extreme Entrepreneurship Virtual Speaker Series for the 2010-2011 academic year.  The series kicks off on Wednesday in Academic Office Building 101 at 7:00pm with Cameron Johnson. The Virtual Speaker Series is designed to inspire students and community members by hearing stories and learning the secrets behind the success of the world's top entrepreneurs who are still in their 20's. View the complete schedule for the Virtual Seminar Series.
Details for Wednesday
Wednesday, September 15 at 7:00 pm-8:30 pm. Academic Office Building, 101.
Cameron started his first business at the age of nine and before graduating high school, he was recognized as one of the most successful young entrepreneurs in the world. As a teenager he started a dozen profitable businesses and at 15, he became the youngest American appointed to the board of a Tokyo-based company. Last year, Cameron was a finalist on Oprah Winfrey's first prime time series, The Big Give, which aired on ABC.
View the poster