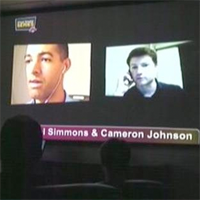 The Entrepreneurs Club at Michigan Tech kicked off its year-long Extreme Entrepreneur Live Speaker series Wednesday night.
People were packed into a Michigan Tech conference room to attend a virtual lecture with entrepreneur Cameron Johnson.
The 25-year-old millionaire spoke about the importance of mentors in the business world.  Those watching were able to ask Johnson questions via text and e-mail.
"Last year we had a similar event but it was like one action packed day with five different speakers talking for about an hour each," said Entrepreneurs Club President Travis White.  "This gives us 10 speakers throughout the year and each night is an hour and half of content."
The lectures are held the first Wednesday of every month in the Academic Office building, room 101.  The next speaker will be Anthony Adams on Wednesday, October 6. Everyone is welcome to attend.
[youtube]http://www.youtube.com/watch?v=Kqw-yr1qVgU[/youtube]
This was originally posted by Ashley Palumbo of TV6.
The Extreme Entrepreneurship Virtual Speaker Series is brought to Michigan Tech by the Institute for Leadership and Innovation and the School of Business and Economics.