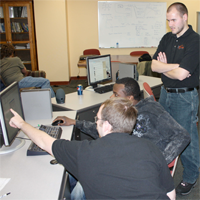 The ITOxygen enterprise team has begun a software analysis project for Michigan Tech's Human Resources department. The goal of the project is to provide Business Process Models and recommendations for software that can aid in improving efficiency and work flow in the department. These models will serve as a springboard for utilizing Lean concepts to improve Human Resources processes in the areas of employment, benefits, and payroll.
Phase 1 of the project is expected to be completed in December of 2010. Phase 2 begin with an assessment of the many software products currently used by Human Resources and those available for use. It is expected to be completed in April 2011. This assessment will be used in the development of a strategic software plan for Human Resources.
"We are excited that ITOxygen will be providing Human Resources with very valuable recommendations on how our processes can be optimized, and how to best utilize available software packages" says Mary Zanoni, Project Lead for HR Technical Services.