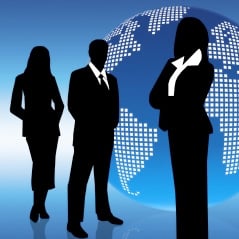 Former Intel executive Dave House '65 will moderate the Entrepreneurship and Technology Symposium, set for 4 p.m., Thursday, Sept. 30, in the M&M U115. All members of the University community are invited to ask questions and listen to the insights of a stellar panel made up largely of Michigan Tech alumni.
The panelists include eight entrepreneurs and technology leaders from health care, software, clean technology and solar energy. They will share their thoughts on the direction of technology and how Michigan Tech can leverage its talent and capabilities to capitalize on those trends.
House, who chairs the Generations of Discovery capital campaign, is the retired president of Nortel Networks and former CEO of Bay Networks, as well as a longtime Intel executive. He is chairman of Brocade Communication Systems of San Jose, Calif.; an angel investor in and board member of STI (Soils and Topography Information), a soils technology company; and an advisor to Elina Networks. He also has a winery, The Mountain Winery, in Saratoga, Calif.
Holly Hillberg '83 '92 is the chief technology officer and vice president of Carestream Health Inc. in Rochester, N.Y. The company provides medical and dental imaging systems and information technology solutions. Hillberg develops technology and intellectual property strategies, sets direction for research and innovation, and drives commercialization efforts. She also has responsibilities relating to regulatory affairs; health, safety and the environment; and product design and usability.
Shankar Mukherjee '86 is president and CEO of Dhaani Systems Inc. of Cupertino, Calif., which he founded in 2008 to produce energy-saving technologies for electronic systems. In 2000, he founded TeraBlaze, a company that provided switch fabric subsystems, and sold it four years later to Agere Systems. Previously, Mukherjee was an engineer and project leader with National Semiconductor and the vice president for engineering of LAN at Enable Semiconductor, a company that was acquired by Lucent.
Kanwal Rekhi '69 is founder of The IndUS Entrepreneurs (TiE) and managing partner of Inventus Capital Partners in Monte Sereno, Calif. Started by Rekhi in 2006, Inventus Capital Partners is a venture capital fund investing in early-stage technology. In 1992, Rekhi cofounded TiE to promote entrepreneurship among Indians and Indo-Americans around the world. He has been involved in more than 50 start-ups in Silicon Valley and has created many entrepreneurs, both as an angel investor and through his mentorship. Prior to his venture career, he cofounded and served as CEO of Excelan, a high-tech company that pioneered Ethernet networking technology and was later sold to Novell.
John Rockwell '79 is managing director of DFJ Element in Menlo Park, Calif., a venture capital firm investing in clean technologies. The firm has affiliates in over 30 cities around the world. Previously, Rockwell was a partner at Advent International Corp., where he focused on advanced materials, energy storage, renewable energy and supply chain management. Prior to that, he was at Materia Ventures Associates, where he focused on early-stage companies that were commercializing advanced material technologies.
John Soyring '76 is vice president–global solutions and software for IBM, in Austin, Tex. He provides global business leadership for a multi-billion-dollar annual revenue portion of the IBM software business. This includes functional leadership for strategy, research and development, marketing and sales, business development, product support and service. Previously, Soyring was vice president and senior executive for IBM's Software Services and Support business unit.
Ron Van Dell '79 is president and CEO of SolarBridge Technologies in Austin, a company developing a micro-inverter for solar panels with the goal of reducing the cost of energy for solar installations. He previously served as president and CEO at Primarion, a mixed signal semiconductor company, which became a leader in digital power management and was acquired by Infineon Technologies in April 2008. Before joining Primarion, Van Dell was president and CEO at Legerity and in senior management positions at Dell, Harris Semiconductor, Groupe Schneider, Square D Company and General Electric. At Dell, he headed the Dimension line, a product that was instrumental in Dell's global expansion.
Alan West, the founding CEO of the Michigan Tech Enterprise Corporation (MTEC) Smartzone, is now CEO and president of Carmell Therapeutics Corp., in Pittsburgh. He has 25 years of experience managing medical start-up companies. He was formerly the executive in residence at the Pittsburgh Life Sciences Greenhouse, where he worked with more than 40 entrepreneurs and start-up companies in the Life Sciences. In his career, he has raised more than $50 million through private and public offerings. He currently serves on the SmartZone Board of Directors.