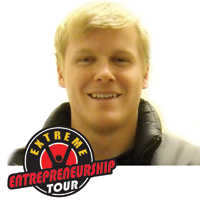 The School of Business and Economics, the Entrepreneurs Club, and the Institute for Leadership and Innovation are kicking off the second Extreme Entrepreneurship Virtual Speaker Series for the 2010-2011 academic year. The Virtual Speaker Series is designed to inspire students and community members by hearing stories and learning the secrets behind the success of the world's top entrepreneurs who are still in their 20's. View the complete schedule for the Virtual Speaker Series.
Details for Wednesday
Join us on Wednesday, October 6 at 7:00 pm-8:30 pm. in Fisher 129.
We'll hear from Anthony Adams on the subject of launching a new idea. Adams is the creator of THC-The Hangover Cure at www.drinkthc.com, an all-natural powder drink mix formulated to alleviate symptoms associated with, you guessed it, a hangover. Listen to Adams discuss some of the best ways to launch a new idea and gain momentum!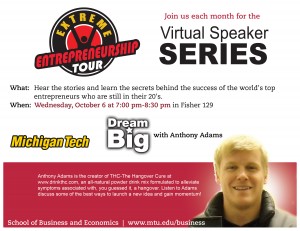 Click to enlarge.