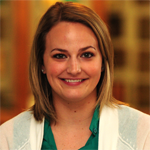 Employer: Kimberly-Clark (Neenah, WI)
Title: Product Developer
My name is Megan Benam and I'm a Tech MBA Online student. By day, I am a Product Developer with Kimberly Clark, the organization I joined after completing my BS in Chemical Engineering from Michigan Tech. I knew that I needed to make myself more valuable to move up at KC, so I enrolled in the Tech MBA Online program. I take my classes when it is convenient for me and still balance a busy work travel schedule.
6am – Wake up
Time to start my morning as I prepare for another day at work. My daily routine starts with checking a few emails and sorting through some mail on my counter, while eating a bowl of cereal. I'm a morning person and I like having some time around the house in the morning to pick-up a few things, check my emails and snail mail, …etc.
8am – Head to Work
As an online student I work full-time as a Product Developer at Kimberly- Clark in Neenah, WI. I love my job, so I didn't want to commit to an MBA program that required me to leave what I love doing. At my job I am currently working on bath tissue product development. It is very interesting how I am able to apply the class assignments to my work assignment at Kimberly-Clark.
Noon – Lunch Break
During my lunch break I access some information for an upcoming assignment and follow up with a project team member. so I logged into Blackboard (the course management system used to teach the Tech MBA Online courses). I have found working in virtual teams on my job has prepared me for virtual team projects that I am doing in the program.
Right before my lunch break ends I respond to a project team member who replied to my comment in Blackboard. I would have never thought incorporating an MBA into my day would be this easy. Lunch is over–time to get back to work.
4:30pm – Heading Home
After a typical day at work creating prototypes that better meet the consumer's needs and wants, I do some kickboxing at my local gym. This is a nice break after work and allows me to re-energize for the second half of my day.
6:00pm – Dinner
Time to grab dinner after the gym and wind down before tackling a class assignment. As I finish my dinner I am reminded how convenient it is to go to class without having to leave my home.
8:30pm Class work
I prepare to listen to a lecture online at my convenience for my Marketing, Technology, and Globalization – BA 5800 course with Professor Junhong Min. With my wireless connection at home I can pull up my assignments on my HP Pavilion as I log onto Adobe Connect to watch the class.
10 pm – Pack
Time to get pack for a week on the road. I find my safety shoes and glasses as those are a must since I will be working in a manufacturing facility for the next week. I love the travel aspect of my job and I didn't want to give that up with more traditional, on-campus MBA programs.
Mobile devices or Technology that I using for class assignments?
Apple iPhone – I have an iPhone that I love. I'm able to check blackboard and email anywhere I go. Even when I only have a couple minutes, I'm still able to stay current with any new emails or postings.
Flash Drive – I also like carrying a jump drive with me with my personal class assignments. That way I will have them available anytime no matter what computer I may use, as I have two computers at home and one at work. It also puts my mind at ease in case a computer crashes.
Laptop – HP Pavilion
I have found that working as an online student has forced me to be more productive and to integrate what I am doing into my current lifestyle. Most local universities near where I work are about 30-minutes away, so I would have spent about 1.5 hours driving to and from campus, plus the prep time to get there for class. The time that I save by not having to drive to campus is equivalent to listening to the class lecture. Being in Wisconsin the weather gets very bad during the winter months so those commutes could be much longer.
Being a part of the Tech MBA Online program has become a natural part of my day instead of being an interruption in my life.